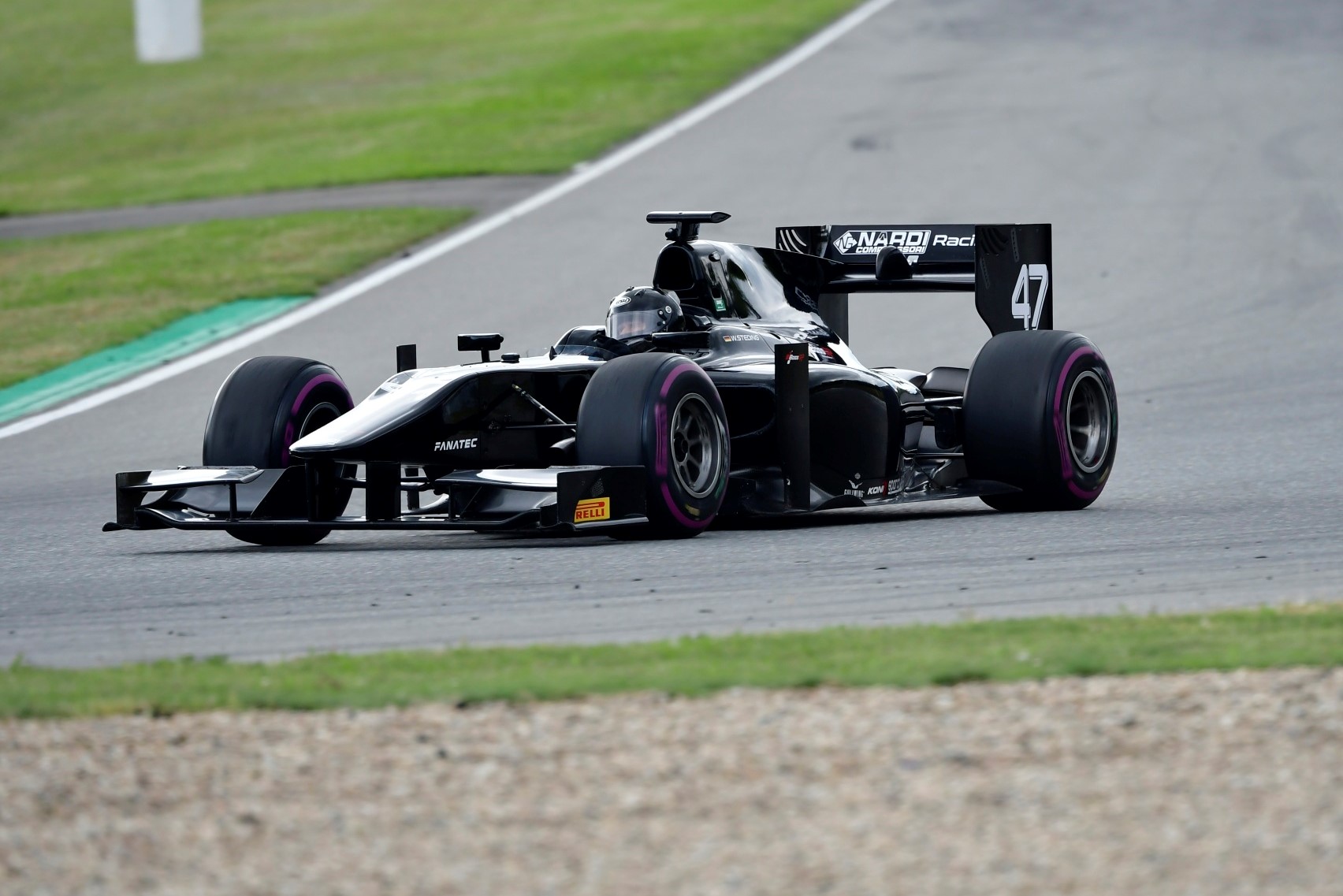 Big surprise in the Sunday race: Double victory for Scuderia Palladio.
Although it was raining overnight, the track mostly dried up until the second BOSS GP race at the Masaryk Racing Days was started. As a result, all the drivers went onto the track on Pirelli P Zero dry tyres. Marco Ghiotto (ITA, Scuderia Palladio) got a bad start from row 1, but he defended his class lead and followed Ingo Gerstl (AUT, Top Speed) on the first meters. Right behind him Luca Martucci (ITA, MM International) managed to overtake Roman Hoffmann (AUT, Hoffmann Racing) right on lap 1, just like he did yesterday.
Hoffmann had to defend himself against Salvatore de Plano (ITA, Coloni) and Andreas Fiedler (DEU, Fiedler Racing) which were pushing from behind. On lap 3 De Plano and Fiedler collided in turn 1. While de Plano was able to continue his race almost undamaged, Fiedler's GP2 Dallara was visibly damaged. De Plano finished the race in 5th place, Fiedler behind Christian Ferstl (AUT, Ferstl Racing) still in 7th place.
The situation came to a head at the front when the overall leader Gerstl steered his Toro Rosso Formula 1 into pit lane. An overheated engine forced the winner of all previous season races to make a stopover. Marco Ghiotto thus took the overall lead in the race, which he did not give up until the checkered flag.
In the meantime, Chris Höher (AUT, Top Speed) also mixed up the field. However, like yesterday he had to park his car in the pits early. Meanwhile, Ghiotto's teammate Walter Steding (DEU) caused a sensation. During the middle of the race he passed Hoffmann for third place. The Austrian defended himself hard, but that was not enough. A few laps later Martucci was also overtaken by Steding in the penultimate corner. For Steding, second place in today's race was the first podium since his most successful racing season in 2015. For Marco Ghiotto's Scuderia Palladio it was also the first one-two victory in the team's history in BOSS GP.
For defending champion Ghiotto the overall standings after 6 of 12 races look very promising. Rival Luca Martucci is already 30 points behind. Walter Steding, who is only one point ahead of Roman Hoffmann, now follows in third place.
You can watch BOSS GP in race action again at the Cuvee Sensorium Grand Prix in Assen in three weeks' time.
Photo: Dirk Hartung