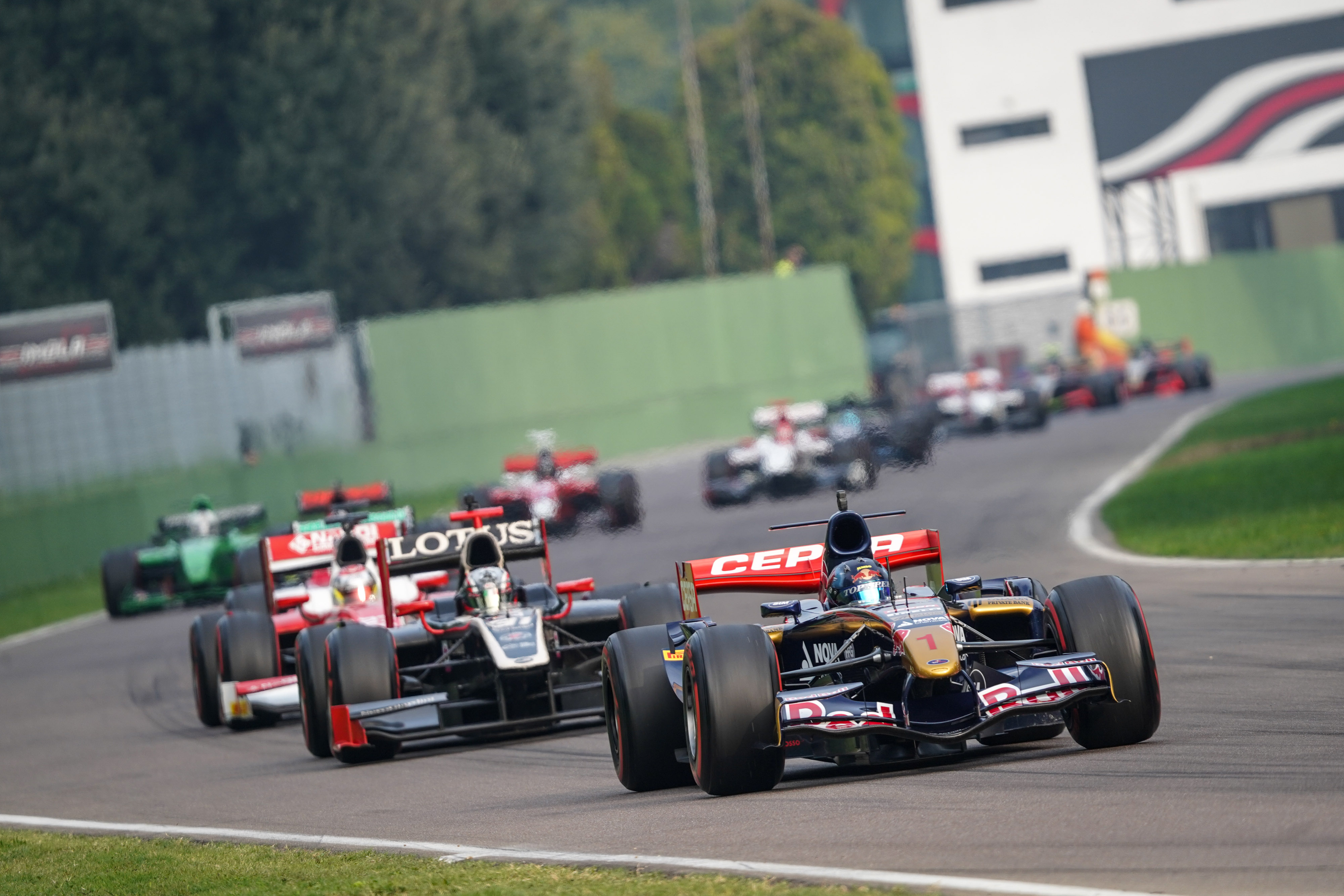 Alessandro Bracalente reduces the gap to championship leader Ghiotto by winning his 4th race of the year.
Alessandro Bracalente (ITA, Speed Center) drove unchallenged to his fourth victory of the season in the FORMULA class. The BOSS GP rookie thus reduced the gap to Marco Ghiotto (ITA, Scuderia Palladio) in the points standings from 15 to only 12 points. Now it is clear that the championship will be decided in the last race on Sunday. Ghiotto followed Bracalente throughout the race like a shadow. Only at the end of the race he lost the connection to Bracalente and the gap grow to an high of four seconds at the finish line.
Luca Martucci (ITA, MM International) showed an incredible pace at the finish. At the beginning of the race he dropped back to 9th place, but on the last lap he made it onto the podium. For Martucci it is his fifth visit on the podium in 2019. In a courageous last lap manoeuvre, he overtook Salvatore de Plano (ITA, Top Speed), who seems to have bad luck on his racing boots. For de Plano it was nevertheless the second-best result of the season and the highest finish since the Hockenheim season opener.
Andreas Fiedler (DEU, Fiedler Racing) was also involved in the fight for the podium at the opening stage of the race. In the end he finished fifth. He scored five championship points more than Philippe Haezebrouck (FRA, Speed Center), who finished seventh. Tomorrow Haezebrouck and Fiedler will fight for third place in the FORMULA ranking.
Marc Faggionato (MCO, Zig-Zag) could not set any time in qualifying because his car had not been repaired in time. That didn't stop him from moving up to 6th place from last position on the grid. For several laps he battled with Haezebrouck for position.
Walter Steding (DEU, Inter Europol) was surprisingly in the top 6 at the beginning of the race, ahead of Martucci and Haezebrouck. With rank 8, he finished in good midfield this time.
Nicolas Matile (MCO, Zig-Zag) finished 9th with the only Auto GP Lola in the field. Peter Göllner won the internal team duel between him and Christian Eicke (both SUI, Speed Center).
Gianluca Ripoli (ITA, MM International) and Ulf Ehninger (DEU, ESBA Racing) had to retire early in the race. Because Ripoli stopped at the warm-up lap, he had to start at the back of the grid at the Indy start. He tried to improve his position in the first lap and collided with Ehninger's Benetton in the Tosa hairpin.
The overall victory was again secured by Ingo Gerstl (AUT, Top Speed). Not surprisingly, the already crowned OPEN champion in his Toro Rosso dominated the eleventh race of the season.
The 12th and last race of the BOSS GP anniversary season will take place tomorrow Sunday at 2:10 p.m., before that at 10:30 a.m. is BOSS GP's warm-up session.