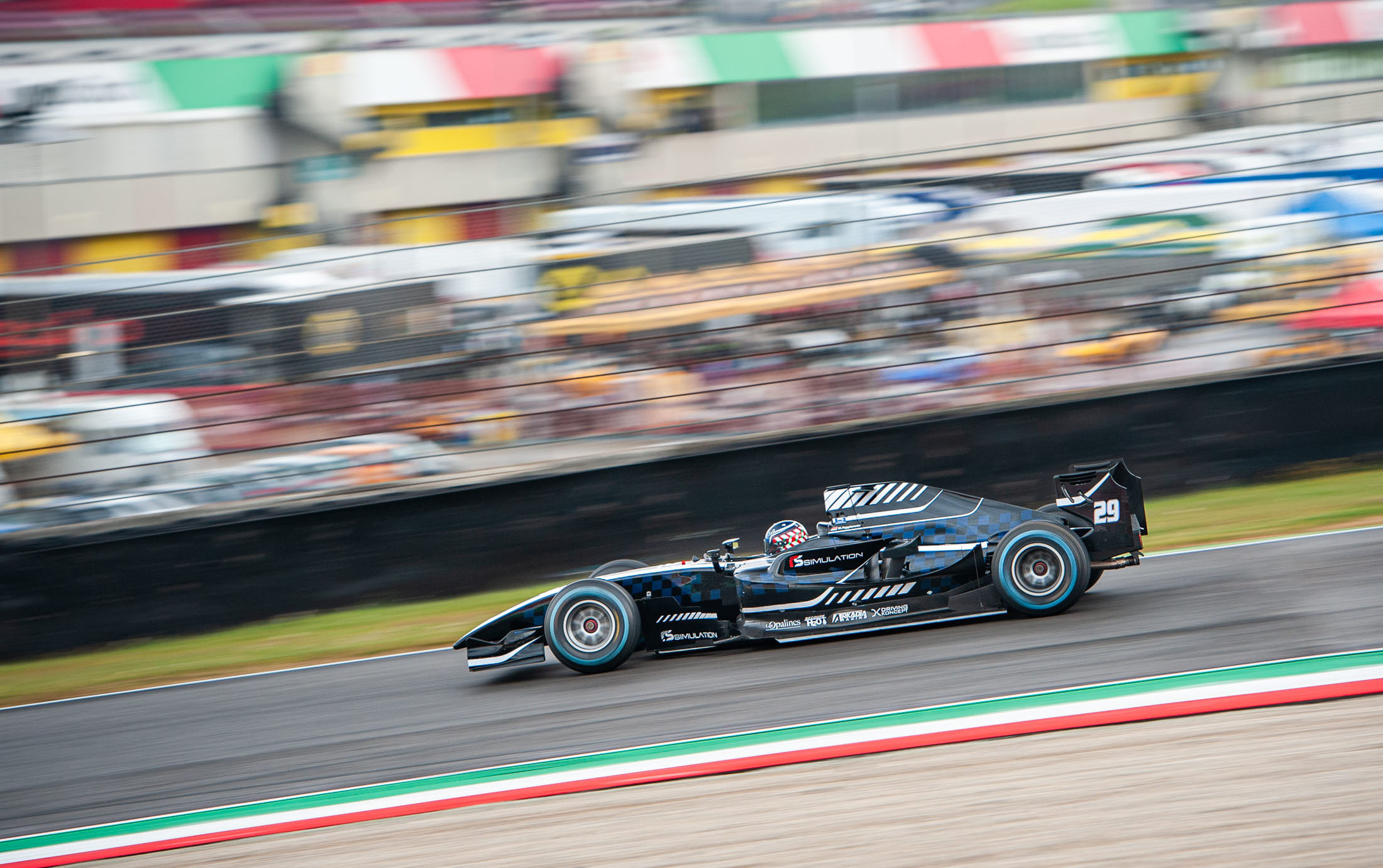 A thrilling duel for pole position between Faggionato and De Lorenzi.
It had rained on Saturday morning, so qualifying was not divided into two groups as usual, rather it was open to everyone straight away. This ensured fair conditions for everyone as the track dried up. In wet conditions at the Mugello Circuit, the Pirelli Cinturato rain tyres were clearly the first choice.
First on track was Simone Colombo (ITA, MM International), who was surprisingly the fastest FORMULA driver on his BOSS GP debut yesterday. In the rain he started gently at first but improved steadily and confirmed his Friday performance with class position 4.
Gianluca De Lorenzi (SMR, GDL Racing) needed even less time to get used to the Zytek-fired Auto GP Lola in these tricky conditions. The Nürburgring specialist is back in a monoposto after a long break and right in the middle of the class usually dominated by GP2 cars. At the beginning of the practice session, he even matched Formula 1 driver Ingo Gerstl (AUT, Top Speed) in the Toro Rosso STR1, who, however, was able to set the clearly best time with 1:52.969 in increasingly better conditions during the course of the timed practice.
In the time sheets behind them, Marc Faggionato (MCO, Zig-Zag) and De Lorenzi were involved in a thriller that lasted until the chequered flag waved. De Lorenzi bumped the Monegasque out of the lead with a 1:57.978 on his very last flying lap. Faggionato however, was still on a fast lap and used it for the counterattack: 1:57.368! Faggionato thus secured pole position – his second – in the FORMULA class.
Next to De Lorenzi is reigning FORMULA champion Marco Ghiotto (ITA, Scuderia Palladio) on row 2, with Colombo and Salvatore de Plano (ITA, MM International) starting behind. Luca Martucci first tried the rain line for a long time, but a spin stopped him from improving his time later in the session. In the end, the race winner of last year came in sixth in his class.
The German Ulf Ehninger (ESBA Racing) is getting more and more used to his hot equipment. Things also went well for the Benetton driver in the wet: he starts the race from grid position 8. On row 5: Nicolas Matile (MCO, Zig-Zag) and Thomas Jackermeier (GER, Top Speed), who delivered a strong performance in his first ever BOSS GP qualifying session and finished 8th in class.
The remaining rankings are available on the event page.
The first of two races of the BOSS GP Season Opening starts today, Saturday, at 15:55 local time. The race will be broadcast on Italian television (MS Motortv) and on the YouTube channel from race organiser Gruppo Peroni.
Photo: Michael Jurtin/BOSS GP