Report: Qualifying Paul Ricard
April 8, 2023
The BOSS GP Racing Series gets going! At the Grand Prix de France Historique, the first qualifying session of the new season already brought a few surprises.
On Easter Saturday, numerous spectators made the pilgrimage to the Circuit Paul Ricard early in the morning to listen to the sounds of the Big Open Single Seater. With a lap average of over 200 km/h, Ingo Gerstl (AUT, Top Speed) set the best time (1:40.923 min) in his Toro Rosso STR1 in the morning qualifying session. The reigning champion of the BOSS GP F1 Class will lead the field into the first race of the season this afternoon (start: 15:15 CEST). The grid of Formula 1 cars is completed by Ulf Ehninger (GER, ESBA Racing) and Didier Sirgue (FRA, LRS Racing). Ehninger, who also adorns the official event poster with his Benetton B197, improved his time in today's qualifying compared to yesterday and hopes for a trouble-free race. Jaguar driver Sirgue is hoping for the same. A technical problem prevented him from taking part in qualifying, but the car will be ready for the race.
Former Formula 1 racing driver Antonio Pizzonia gave the first indication of what he is capable of. The Brazilian is making his BOSS GP debut for HS Engineering this weekend. How close can the OPEN driver get to the Formula 1 cars with his upgraded World Series bolide?
As expected, the FORMULA class was already exciting to watch in qualifying: Marco Ghiotto (ITA, Scuderia Palladio), Simone Colombo (ITA) and Marc Faggionato (MCO, both MM International) swapped the lead in classement several times. In the last attempt, Colombo improved his time, Ghiotto was unable to do the same, while Faggionato was even faster, beating Colombo by less than seven hundredths of a second over the 5.8-kilometre distance. In the analysis, Colombo quickly found the missing time – a braking error on his fastest lap was too much of a good thing.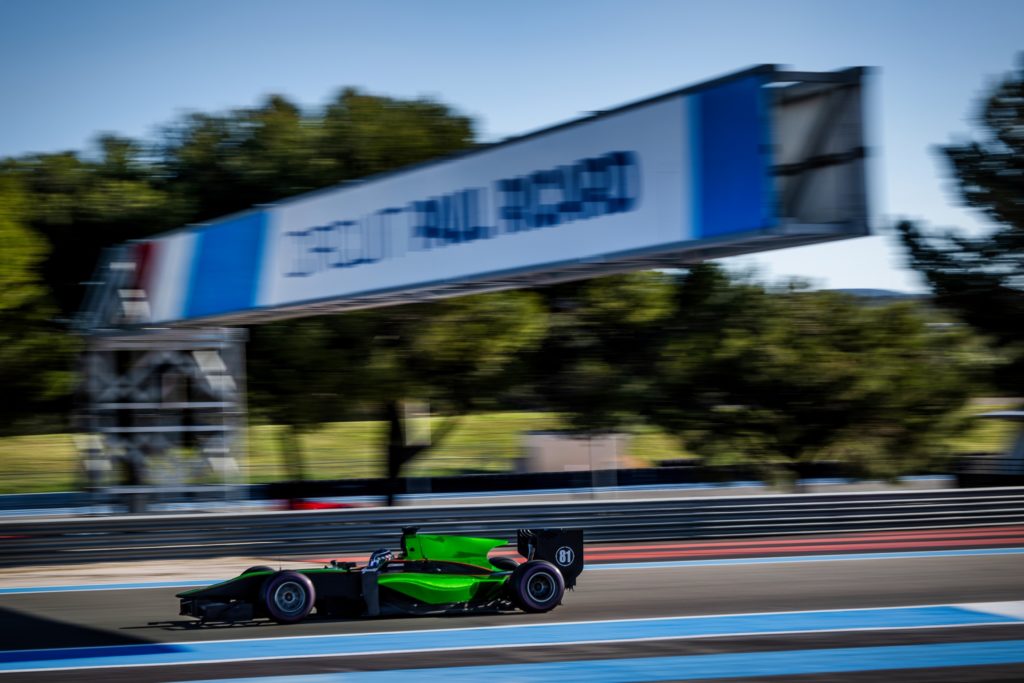 In Q2, the second group from the cumulative Friday practice sessions, Francesco Malavasi (ITA, Scuderia Palladio) alias "Checco" was clearly fastest. It will be exciting to see whether "Checco" can follow the "big three" Faggionato, Colombo and his team boss Ghiotto in the races. Thomas Jackermeier (GER, Top Speed) qualified sixth in the FORMULA class. Because his Toro Rosso STR3 is not yet ready for the start, he had to switch to the GP2 racer at short notice. Frenchman David Moretti (Griffith's) followed in 7th place, ahead of his compatriot Jean-Christophe Peyre (Zig-Zag) in the only AutoGP car.
Pole position in the SUPER LIGHTS category goes to BOSS GP newcomer Henry Clausnitzer (GER, WF Racing) in the World Series racing car with a V6 machine.
Both races start today, Saturday, and tomorrow, Sunday, at 3:15 pm. Before that there will be a VIP grid walk and an autograph session with French racing legends and BOSS GP star Antonio Pizzonia.
Pictures: Angelo Poletto/BOSS GP