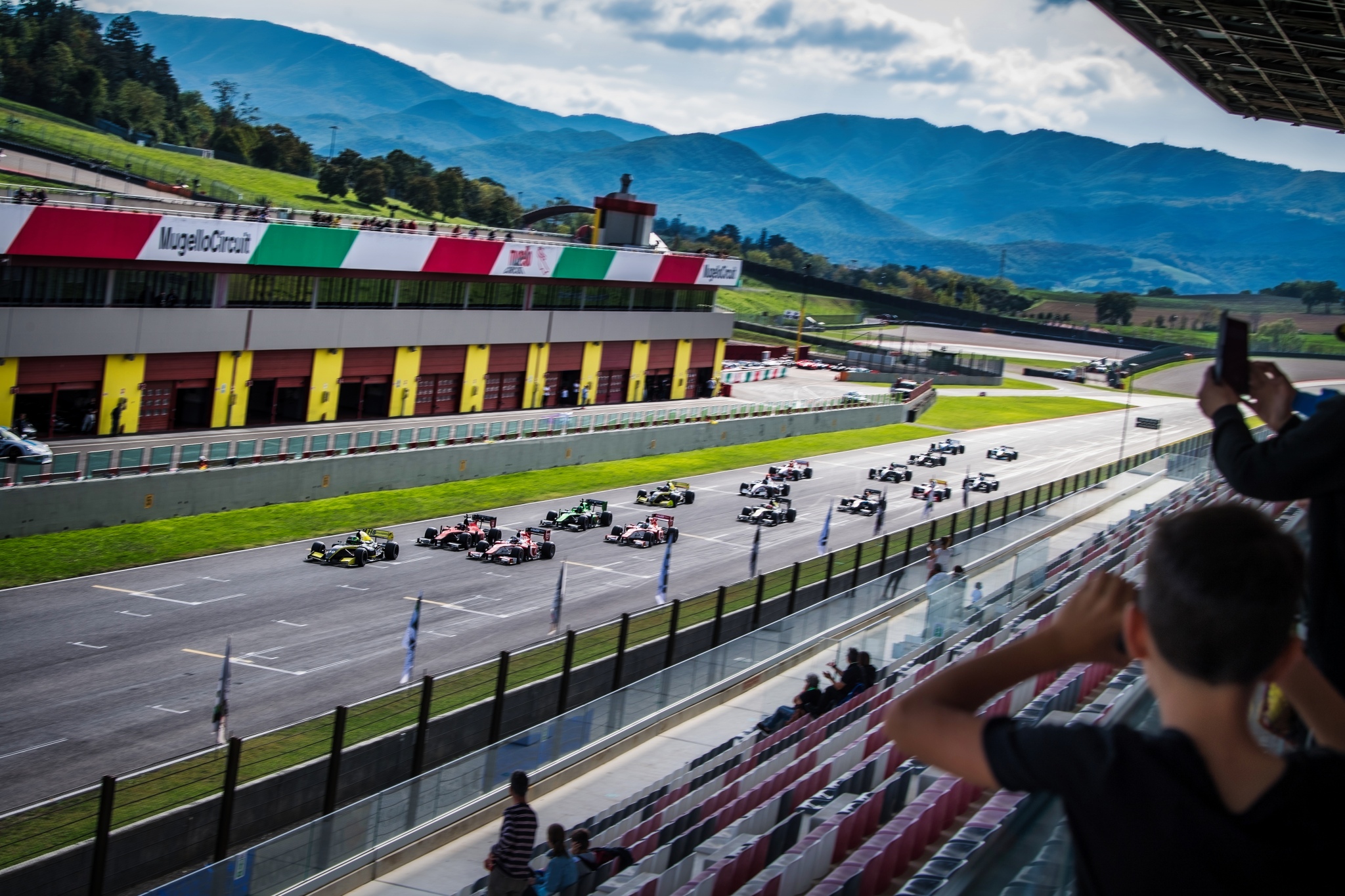 Ingo Gerstl secures the championship title. Thriller for victory in the BOSS GP FORMULA class postpones decision to the Pirelli Grande Finale in Misano.
The third last race of the 2022 season at the "Forza Fanatec" had it all for fans and drivers alike. But first, the teams and riders had to wait, because the fog on Sunday morning postponed the programme by about an hour. However, this did not change the race distance of 25 minutes.
BOSS GP F1 Class
Thomas Jackermeier (GER, Top Speed) started the race from grid position 2. He overtook his team-mate Ingo Gerstl (AUT) in the two-year older Toro Rosso STR 1 right at the start, but a safety car phase made it impossible for Gerstl to pass his protégé Thomas Jackermeier. Jackermeier fulfilled a birthday wish with his third victory after the "double" in Brno and won for the first time on Italian soil with the Italian car. Gerstl's second place was enough to secure his eighth BOSS GP title, the seventh in the highest class. Gerstl thus draws level with his long-time great rival Klaas Zwart (NLD) in the all-time BOSS GP leaderboard.
BOSS GP OPEN Class
Harald Schlegelmilch (LVA, HS Engineering) was able to take another winner's trophy for himself and his Austrian team on the podium at Mugello after another faultless performance.
BOSS GP FORMULA Class
Simone Colombo (ITA, MM International) wanted to fix the championship deal after winning yesterday's race. But in a tussle at the start with rival Marco Ghiotto (ITA, Scuderia Palladio), it was Colombo who lost out. He got stuck in the gravel, while Ghiotto and Francesco Malavasi (ITA, Scuderia Palladio) were able to continue the race with loss of position. In the last ten minutes of the race, a four-way battle for the class win ignited. Luca Martucci (ITA, MM International), who was leading at first, got more and more pressure, among others from Salvatore de Plano (ITA, MM International). He overtook Martucci, who counterattacked several times. Marc Faggionato (MCO, Zig-Zag) and Marco Ghiotto joined him from behind and worked their way forward lap by lap. With three laps to go, De Plano took the lead, which he would not relinquish until the chequered flag. Behind him, Luca Martucci defended himself with the knives between his teeth. But it did not end as Martucci would have wished. Both Faggionato with the fastest race lap and Ghiotto were able to pass Martucci on the last lap. With third place behind De Plano and Faggionato, Ghiotto keeps the title fight open in the FORMULA standings, 38 points separate him and Colombo before the last two races in Misano. 50 points are still up for grabs.
BOSS GP SUPER LIGHTS Class
Walter Colacino (ITA, Colacino Motorsport) could hardly believe it. Unlike his opponents in the six-cylinder car class, Colacino was able to complete a race distance in his aged Formula 3000 with Alfa Romeo engine. Colacino thus scored the full 25 points. Alexander Geier (AUT, Geier Racing) was at least able to complete some race laps today (Sunday) after yesterday's technical problems and finished second ahead of the new champion Andreas Hasler (AUT, Hasler Motorsport).
The BOSS GP Racing Series continues its European tour in three weeks. The final decisions of this season will be made at the Pirelli Grande Finale in Misano from 4 to 6 November 2022.
Photo: Angelo Poletto/BOSS GP