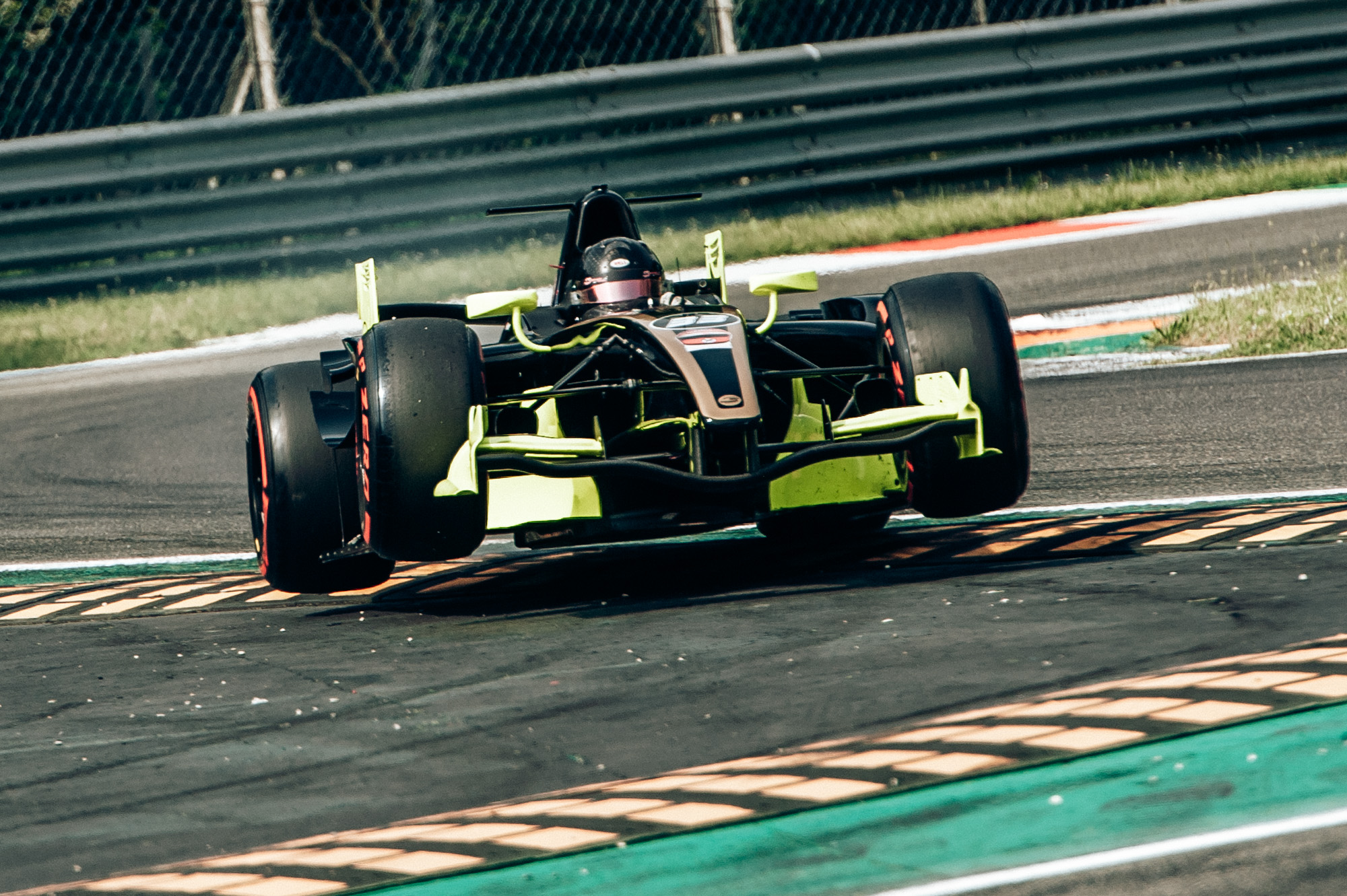 The fastest BOSS GP qualifying of the year in review.
Third pole position in the third BOSS GP event 2019 for Ingo Gerstl (AUT, Top Speed). In the V10 Toro Rosso STR1 Gerstl was again the fastest pilot in qualifying. This means he sets the pace for the start of the first of two races at 4 p.m. this afternoon.
Phil Stratford (USA, Penn Elcom) will line up next to him once again. In the Benetton B197 he was able to improve by two seconds compared to qualifying 2018 – this opens the chase for permanent rival Gerstl.
Marco Ghiotto (ITA, Scuderia Palladio) confirmed his performance of Friday: With 1:36.169 he drove the fastest lap time of all Formula 2 drivers. Teammate and cousin Sergio Ghiotto starts the race from 5th place as third best FORMULA driver.
In between will be Alessandro Bracalente (ITA, Speed Center), who was the only one in the turbulent Qualifying 2 to make it into the top 5. Later in qualifying the FORMULA leader had an accident. At the end of the second chicane he spun to the inside and into the barriers. For the race driver and car should be made ready again.
The Italian dominance at their home race in the FORMULA class is underlined by Armando Mangini (grid position 6), Salvatore de Plano (grid position 7) and Gianluca Ripoli (grid position 8). First non-Italian in the FORMULA category is Philippe Haezebrouck (FRA, Speed Center). The Frenchman continues the good pace of Hockenheim and Spielberg in his first race with the new team.
Luca Martucci (ITA, MM International) starts in tenth. Walter Steding qualified as eleventh despite a spin into the gravel bed. Christian Eicke (SUI, Speed Center) was able to participate today after his accident in the first free practice and thanked his team with rank 12. Thomas Jakoubek (AUT, Top Speed) will start from 13, OPEN driver "Piter" (FRA, Ray-Ban) in the only World Series car from 14.
Andreas Fiedler (DEU, Fiedler Racing) had to miss qualifying, because his rear wing broke yesterday. He hopes to find a spare wing before today's first race, otherwise he must skip another race.
Race 1 starts today at 4 p.m. – with best weather and free entry.