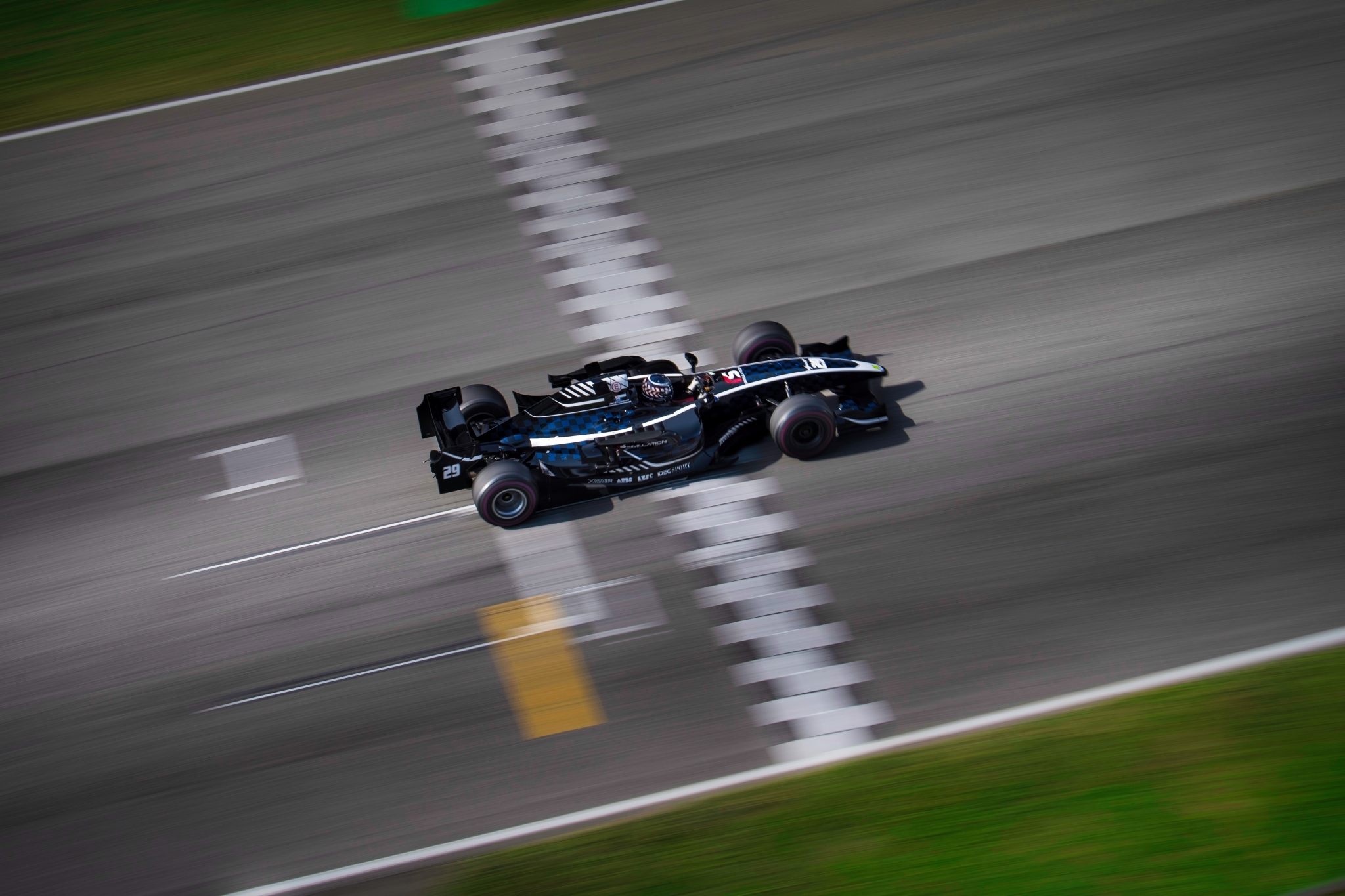 Pole position for Ingo Gerstl at the "Forza Fanatec" in Mugello. Ghiotto holds his own against FORMULA leader Colombo and Andreas Hasler is fastest in the SUPER LIGHTS.
Ingo Gerstl (AUT, Top Speed) confirmed his role as favourite with the best time in qualifying. With a lap time of 1:26.747, the driver of a Toro Rosso STR1 secured pole position for the two race rounds in Mugello. Gerstl will be followed at the start by OPEN driver Harald Schlegelmilch (LVA, HS Engineering) in the World Series car with 4.5 litres capacity (instead of 3.5). Thomas Jackermeier (GER, Top Speed) will start from row 2. Jackermeier is competing for the first time in a Formula 1 car at Mugello and is doing excellently so far. Will he be able to step up a gear in the race and follow Gerstl?
Marco Ghiotto (ITA, Scuderia Palladio) secured the best starting position in the highly competitive FORMULA classification. The two-time BOSS GP champion started in qualifying section 2 after a cautious Friday practice run and it took him a few laps to get past team-mate Francesco Malavasi (ITA) on the timings and then championship leader Simone Colombo (ITA, MM International). With a fantastic time of 1:35.035, Ghiotto qualified almost nine tenths of a second ahead of Colombo, who lost time especially in the first sector. Filling the starting row behind are BOSS GP rookie Francesco Malavasi and Luca Martucci (ITA, MM International), who is a candidate for the podium with a good qualifying performance on one of his favourite tracks. Team-mate Salvatore de Plano (ITA) follows behind.
With Joey Foster (GBR, HS Engineering) withdrawing from the event, the only World Series by Renault 3.5-litre pilot Paul O'Connell qualified sixth in class. Best from the Zig-Zag squad was Nicolas Matile (MCO) in the Auto GP Lola in eighth in class, just ahead of teammate Jean Christophe Peyre (FRA). Team leader Marc Faggionato (MCO) was unable to take part in practice after spinning and will therefore have a race to catch up.
In the SUPER LIGHTS category, rookie Alexander Geier (AUT, Geier Racing) only familiarised himself with the track today after still being in school yesterday. Geier's Tatuus World Series V6, however, remained in the pits with gearbox problems, so Andreas Hasler (AUT, Hasler Motorsport) will start the races as the best-placed SUPER LIGHTS competitor. Walter Colacino (ITA, Colacino Motorsport) qualified his Formula 3000 in 15th place overall.
The first race starts today, Saturday, at 15:05 local time and is over a distance of 20 minutes, the second race over 25 minutes is scheduled for tomorrow, Sunday, at 13:15. In order to keep the workload on the Formula 1 cars low, the BOSS GP F1 Class will see the chequered flag after 15 minutes.
Photo: Angelo Poletto/BOSS GP