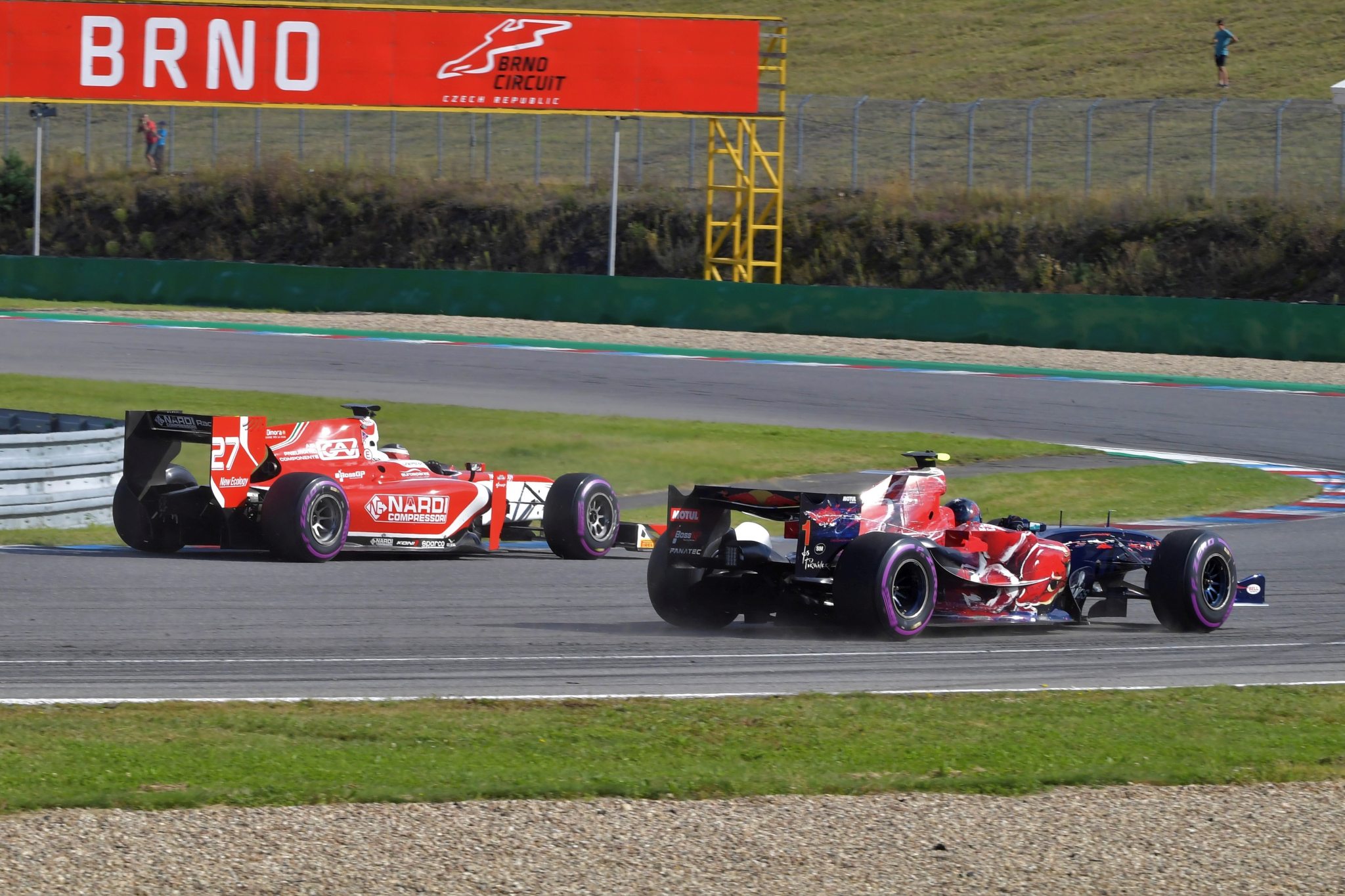 Ghiotto fights a duel with Gerstl and extends his lead in FORMULA.
For the first time this year, racing fans were able to experience the BOSS GP Racing Series live on site at the Masaryk Racing Days in Brno. The sound of V10 and V8 engines and the late summer temperatures of around 30 degrees Celsius attracted a few thousand spectators on Saturday.
Ingo Gerstl (AUT, Top Speed) was the clear favourite for the overall victory. But Gerstl did not make use of the full potential of his Toro Rosso STR1 F1 car and so Marco Ghiotto (ITA, Scuderia Palladio) suddenly caught up with him in the middle of the race. Twice the lead changed between the two of them, until Gerstl finally prevailed. Ghiotto took it easy and with the class win he was able to further extend his lead in the FORMULA standings.
The gap to his competitors Luca Martucci (ITA, MM International) and Roman Hoffmann (AUT, Hoffmann Racing) was much larger than initially expected. Martucci overtook Hoffmann right after the start and then settled for second place in the class. BOSS GP rookie Hoffmann remained third and was able to take home a trophy for the third time in a row despite gearbox problems.
Because Walter Steding (DEU, Scuderia Palladio) could not get away at the pre-start, a race to catch up followed with some overtaking manoeuvres worth seeing. In the end he only just missed the podium with 4th place in his class. Steding also overtook Salvatore de Plano (ITA, Coloni), who finished fifth in the FORMULA class.
Andreas Fiedler (DEU, Fiedler Racing) gained the most positions, moving up from 9th to 6th right in the starting phase. Bianca Steiner (AUT, Steiner Motorsport) remained in the race ahead of Christian Ferstl (AUT, Ferstl Racing) and Christopher Höher (AUT, Top Speed), who, however, made his way to the pits early.
Tomorrow's warm-up starts at 9h05, before the second race gets underway at 12h20. As in race 1, the starting order will be according to the result of qualifying session. If the weather forecast is correct, the Pirelli Cinturato rain tyres could be in use tomorrow.
Photo: Dirk Hartung