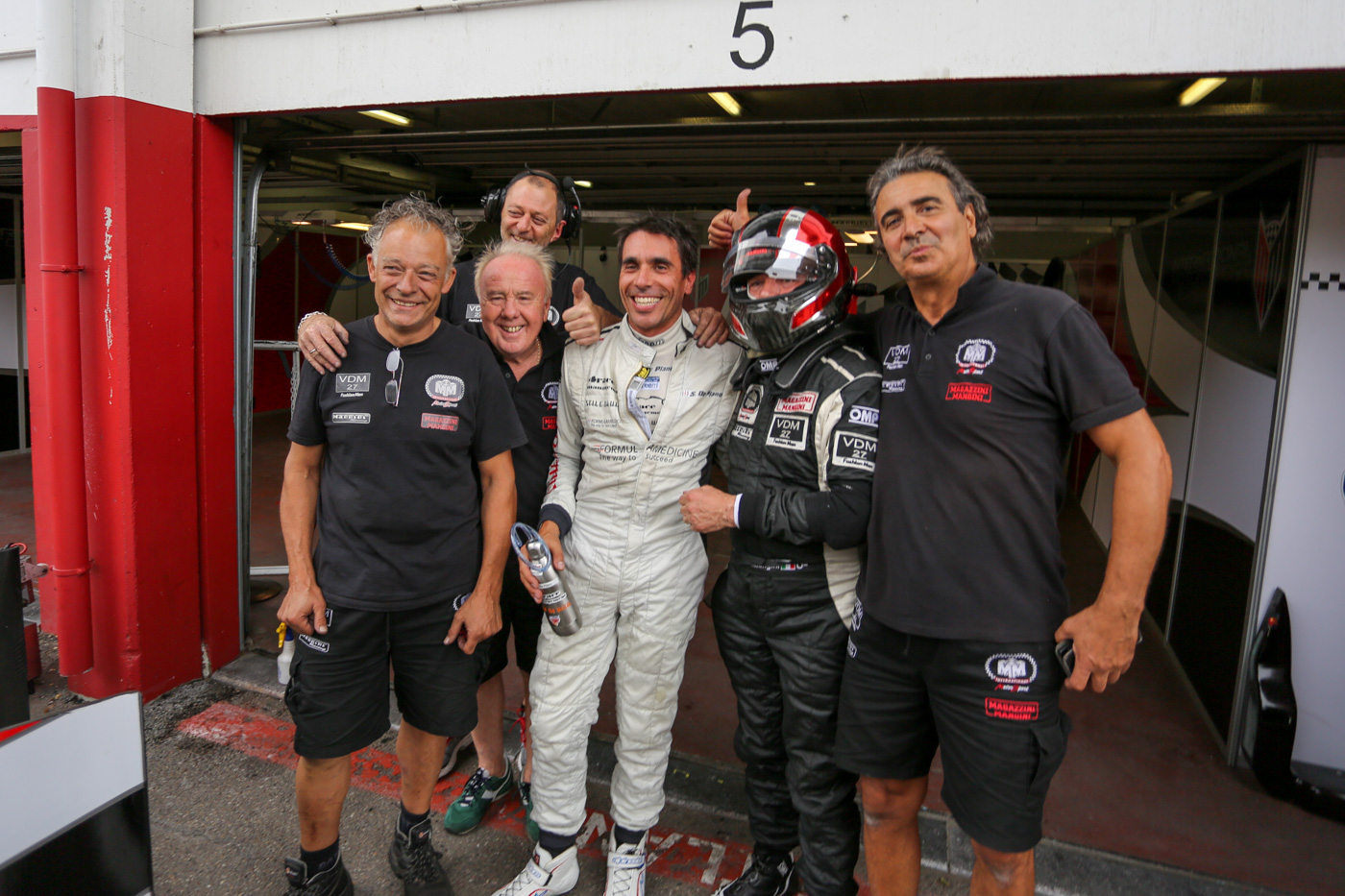 What a crazy race again. Just four out of seven cars of the FORMULA class made it to the finish line on the track of Zolder at the "Zolder Superprix".
Henk de Boer (NED, De Boer Manx, Dallara GP2 Me cachrome 4.0 V8) and Walter Steding (GER, Inter Europol Competition, Dallara GP2 Me cachrome 4.0 V8) already dropped out the race before the start due to technical problems. Wolfgang Jordan (GER, HA Racing, Dallara GP2 Me cachrome 4.0 V8) spun off the track shortly after the start. So four drivers of the FORMULA class were left on track and showed an intense battle for the podium anyway.
So it was Salvatore De Plano (ITA, MM International Motorsport, Dallara GP2 Mecachrome 4.0 V8), starting from position 4, who overtook Mahaveer Raghunathan (IND, PS Racing by Coloni Motorsport, Lola Auto GP Gibson Tech 3.4 V8) directly after the start. The following safety car phase during the first three laps, due to Jordans twister off the track, was a challenge for drivers and cars ("We managed that well", De Plano).
When the track was opened up for the grid in lap 4, De Plano and Raghunathan, following with a gap of just around two seconds, showed a great battle for the top podium position of season race 8. De Plano managed to keep the lead of the FORMULA class grid and winning his first ever BOSS GP P1 until he crossed the finishing line in lap 17, taking the lead with 2,735 seconds up in front of second ranked Raghunathan on P2. Driving his best lap (8th) in 1:20.974 min, the Italian showed a great result, coming very close to the lap record of leading OPEN class driver Phil Stratford with 1:20,215. Also Raghunathan performed his record in 8th lap with 1:21,238.
As on Saturdays race (season race 7) Armando Mangini (ITA, MM International Motorsport, Dallara GP2 Me cachrome 4.0 V8) made the podium-double for MM International Motorsport-team perfect, wenn he finished on P3, having a significant gap of 55,487 seconds to FORMULA class winner De Plano. His lap record was a 1:24,113.
Karl-Heinz Becker finished as fourth and last of the remaining FORMULA class grid with a total of 16 laps and a lap record of 1:30,376.
"Fantastico! This is just amazing. My first ever P1 at the BOSS GP championship. I hardly can describe my emotions, I feel so happy. I always dreamed of standing on top of this podium. So the race went perfect for me. Key to success was overtaking Raghunathan shortly after the start", said an elated De Plano after the podium ceremony. "I want to thank my team for a great race weekend in Zolder. I look forward to the next races in Assen in August. We will attack again then!", De Plano promised.
Looking at the overall Championship 2017 ranking of the FORMULA class, De Plano moved on to the second rank, passing the previous leader of the FORMULA class, Austrian Johann Ledermair, with a total of 159 points now. Ledermair (Ledermair Motorsport), who didn't attend the "Zolder Superprix"-races, is set on the third rank now with a total of 147 points. Mahaveer Raghunathan is leading the FORMULA class with 171 points.
Results of race 2 in Zolder 2017:
MORE:
Picture gallery of Zolder 2017: bossgp.com/gallery/zolder-superprix
OPEN class: Race 2 at "Zolder Superprix 2017": bossgp.com/open-class-first-ever-p1-for-phil-stratford-in-boss-gps-open-class
FORMULA class: Race 1 at "Zolder Superprix 2017": bossgp.com/formula-class-race-1-at-zolder-superprix-mahaveer-raghunathan-winning-his-first-ever-p1
FORMULA class: Qualifying at "Zolder Superprix 2017": bossgp.com/formula-class-qualifying-at-zolder-superprix-raghunathan-and-de-plano-battle-for-fastest-lap
FORMULA class: Practice day at "Zolder Superprix 2017": bossgp.com/formula-class-practice-day-at-zolder-superprix-2017-raghunatan-taking-the-lead
Schedule for "Zolder Superprix 2017": bossgp.com/timetable-for-the-zolder-superprix
Start list for "Zolder Superprix 2017": bossgp.com/start-list-for-the-zolder-superprix-is-set
Standings of season 2017: bossgp.com/standings