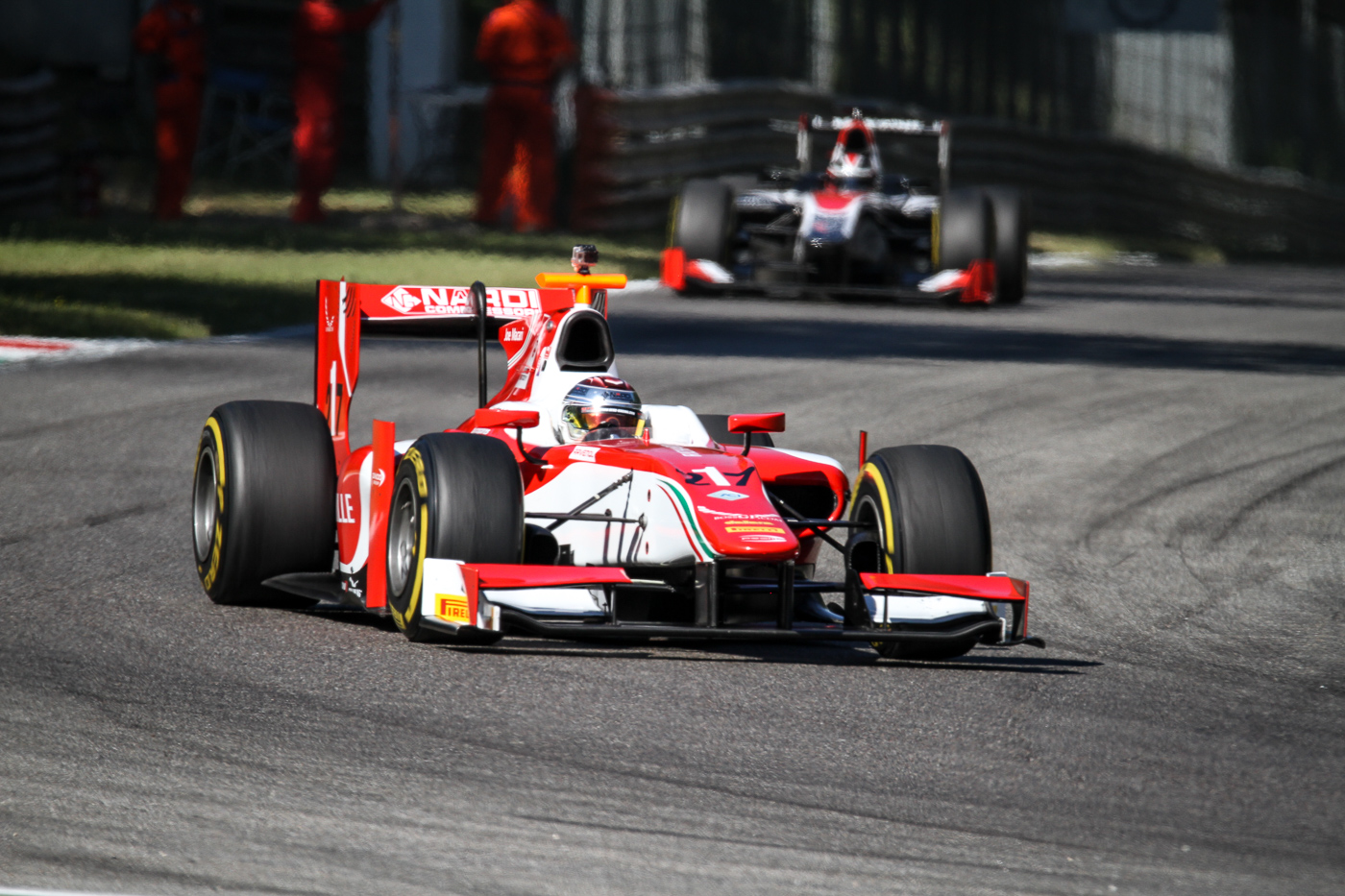 It's gonna be hot: The Formula 1, Formula 2 and World Series cars of the BOSS GP will be on Italy's "fastest motorway" from 14 to 16 June in perfect weather and for free.
Races 5 and 6 of the 2019 BOSS GP season will take place next weekend at the Monza Eni Circuit. The traditional race track is 5.8 kilometres long and not far from the city of Milan. With an average speed of around 240 km/h, it is the fastest track in the BOSS GP racing calendar.
17 drivers are registered for the first of two Italian races of the BOSS GP this year. For seven of them it is a home race: the Italian team MM International comes with Marco Martucci, Gianluca Ripoli and team owner Armando Mangini. The runner-up of the FORMULA, Marco Ghiotto, in the former Charles Leclerc F2 car and cousin Sergio Ghiotto are competing for the Scuderia Palladio. Two more Italians are driving for non-Italian teams: Salvatore de Plano for Top Speed and FORMULA leader Alessandro Bracalente for Speed Center. They all drive cars from different Formula 2 generations.
What does the Competizione BOSS GP offer?
In addition to the Big Open Single Seater, ten other racing series are part of this exciting event organized by Gruppo Peroni. These include the prototype class of the Sports Car Challenge, the GT3 of the P9 Challenge, the Renault Clio Cup Italia one-make cup and some historic racing series such as the Alfa Revival Cup.
On that weekend, a road safety course for children will also be inaugurated on the racetrack grounds. The use is free of charge for visitors on the opening weekend.
According to weather forecasts, it will get hot: up to 33 degrees Celsius, precipitation is not to be expected.
BOSS GP schedule:
Friday, June 14, 2019
09:55–10:25: Free Practice 1
15:20–15:50: Free Practice 2
Saturday, June 15, 2019
10:45–11:15: Qualifying
16:00–16:20: Race 1 (20 min)
Sunday, June 16, 2019
10:35–10:45: Warm-up
14:35–15:00: Race 2 (25 min)
Where can I find the BOSS GP cars, teams and drivers?
The BOSS GP teams are located in the pit lane exit area. These are the garages with the numbers 46 to 60. The BOSS GP catering from Sabel Racing and the Hollerweger Pirelli tyre service are located right behind them in the paddock. Fans can watch the teams and racers from the front row at work.
How do I get tickets for the Competizione BOSS GP?
Admission is free on each of the three days, access tickets are not required. Seating is free on all open grandstands and access to the paddock is not restricted. Only parking costs extra.
Where can I follow the Competizione BOSS GP online?
Livetiming on http://monza.alkamelsystems.com
All results on bossgp.com
Up to date with Instagram @bossgpofficial and Facebook @bossgpofficial
The latest pictures from race weekend in our gallery bossgp.com