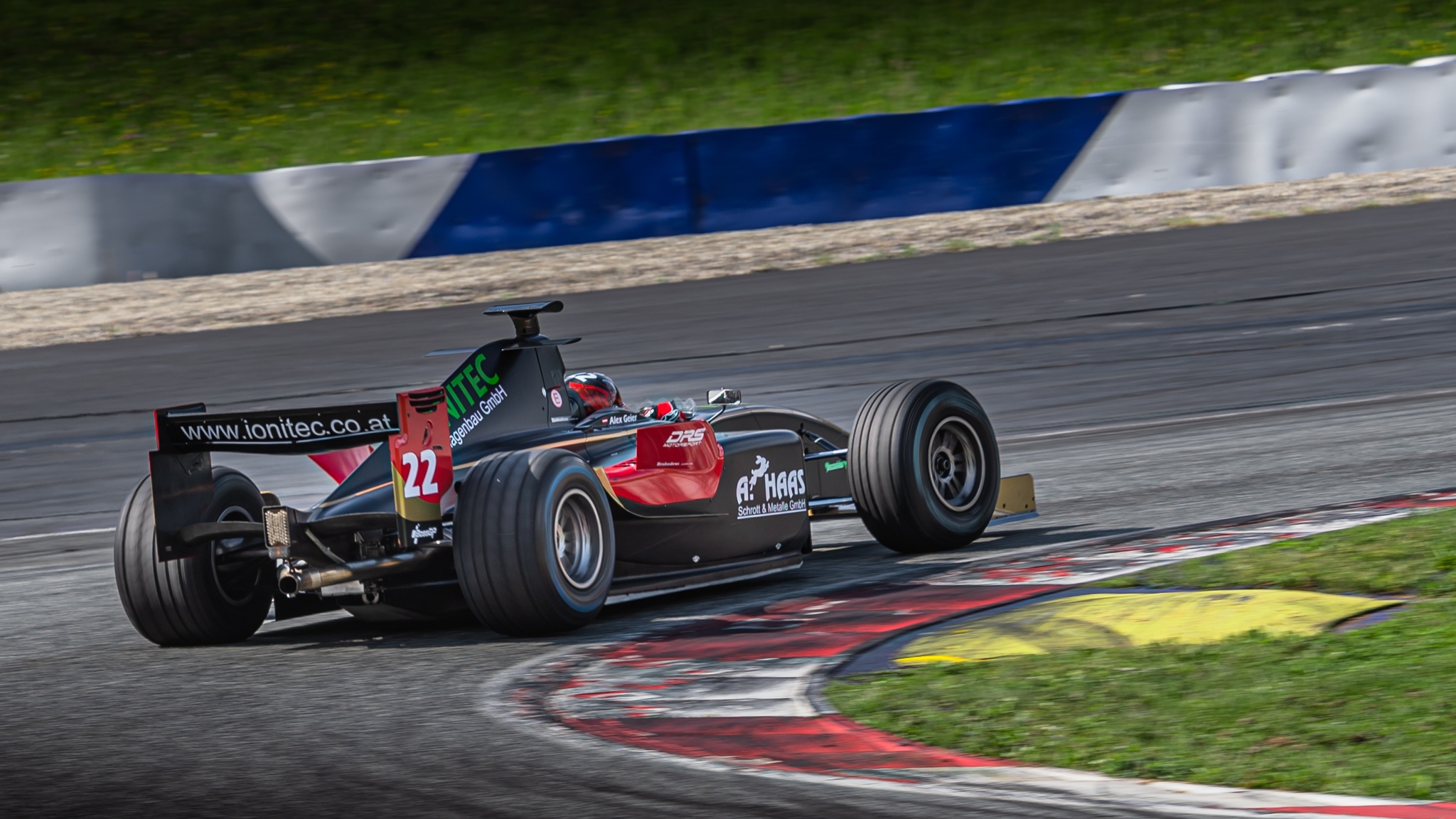 New Pirelli tyres were used in the hunt for the fastest time in qualifying at the Red Bull Ring Classics. Best starting positions for Gerstl, Pizzonia, Colombo and Clausnitzer.
Many spectators ran even faster from the car parking to the grandstands, when they heard the roar of the Formula 1 engines. The packed ranks followed 19 BOSS GP Racing Series cars in qualifying on Saturday morning. With a speedy time of 1:11.524 min, Ingo Gerstl (AUT, Top Speed) showed incredible pace in his ten-cylinder Toro Rosso from 2006. With an average speed of almost 220 km/h, the man from Salzburg amazed numerous visitors. Ulf Ehninger (GER, ESBA Racing) was unlucky in the 1997 Berger Benetton. The 2021 champion spun in turn 3 on his first fast lap and was not able to restart the car afterwards.
Still without traction control, but with a lot of driving pleasure, Antonio Pizzonia (BRA, HS Engineering) sets the tone in the OPEN class in the World Series Dallara with 4.5-litre Gibson engine. Team-mate Paul O'Connell (IRE) was afflicted with engine problems on Friday, but he was able to take part in qualifying and qualified 11th overall.
Simone Colombo (ITA, MM International) did not miss a beat in the third qualifying session of 2023. The Italian secured pole position in the first qualifying session and thus starts the races at the Red Bull Ring with the best starting position in the FORMULA class. But it was close again, only one tenth of a second was left by long-term rival Marco Ghiotto (ITA, Scuderia Palladio) on his fastest lap compared to Colombo. Ghiotto tactically went out late in Q2, so he stayed out of traffic, improved lap after lap and came close to Colombo's best time on his last fast lap.
The fight for pole position was also taken up by Fabian Vettel (GER, Top Speed) in the second Fanatec GP2. The German brilliantly performed in his premiere in a single-seater racing car. He went out on track late in the session for a finale shot. After setting the best time in the first sector he lapped the 4.318-kilometre circuit in 1:19.411 – which earned him third place by the narrow margin of not even two tenths of a second. "Checco" Malavasi (ITA, Scuderia Palladio) confirmed his consistent performance just behind the front runners with fourth place in class and will start the race with a chance of a podium finish. Behind him was Andreas Fiedler (GER, Fiedler Racing), who is again in a promising position after his return to the podium last time out in Hockenheim. Behind the two Top Speed drivers Florian Schnitzenbaumer (GER) and Thomas Jakoubek (AUT), Alexander Geier (AUT, Geier Racing) made a good debut in the GP2 car.
In the class of the SUPER LIGHTS, again only one driver was able to stay unscathed: Henry Clausnitzer (GER, WF Racing) secured pole position in the V6 World Series car, while both Sebastiano Sibani (ITA, Colacino) and Stefan Eisinger-Sewald (AUT, Red Rose Racing) had to pit early in their Formula 3000 cars.
The first of two races starts today, Saturday, at 15:50 local time and runs over a distance of 20 minutes (F1 Class 15 minutes). Tickets are still available at the box office. The races can also be followed via live timing.
Photos: Erwin Strassnigg/BOSS GP