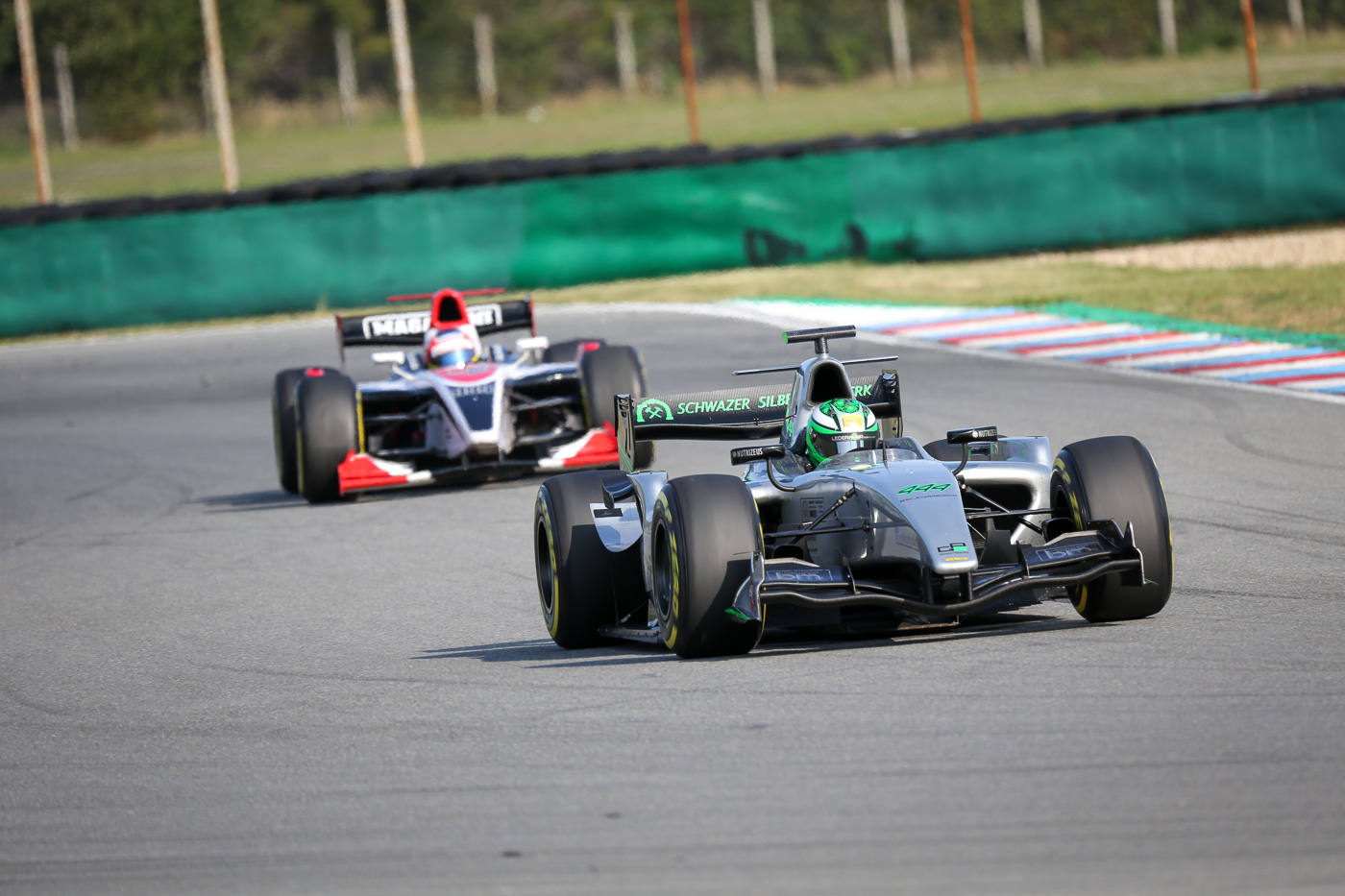 After a smooth first free practice in the morning the second free practice session went quite well again. With the exception of Johann Ledermair (Ledermair Motorsport), who spun off the track after a couple of laps, all drivers drove some nice laps.
Both BOSS GP classes – OPEN and FORMULA class – went on track together for the second practice session as well. As in first free practice, Austrian Johann Ledermair was the first driver on track. All 12 FORMULA drivers followed the Austrian on track. Weather conditions in Brno were continously great: 22°, sunny and dry.
A couple of laps was done, when a the red flag slowed drivers down. It was an early finish of the practice session for Johann Ledermair , who had spun off the track with his Dallara GP2. Also Andreas Fiedler (H&A Racing) had to finish the practice early after turning on the track with his Dallara GP2.
After drivers went back on track, the further practice run smoothly and without any further crashes. Mahaveer Raghunathan (PS Racing by Coloni Motorsport) confirmed his great shape once more and performed the fastest lap of the FORMULA grid with 1:46,941 min in his Lola Auto GP. Salvatore De Plano (MM International Motorsport) showed a strong performance with his Dallara GP2 as well, with his fastest lap in 1:48,102. Armando Mangini (MM International Motorsport) followed with a 1:48,193, having a more than close gap to his teammate De Plano of of only 0,092 seconds.
Florian Schnitzenbaumer (Top Speed, 1:50,248), Andreas Fiedler (Fiedler Racing, 1:51,817), Karl-Heinz Becker (Becker Motorsport, 1:52,858), Peter Göllner (H&A Racing, 1:52,864), Henk de Boer (De Boer Manx, 1:54,313), Christian Eicke (Speed Center, 1:54,441), Walter Steding (Inter Europol Competition, 1:54,909) and Veronika Cicha (H&A Racing Team, 1:56,606) completed the grid.
Results of second free practice of FORMULA class at "Masaryk Racing Days":
| | | | | | | | | | | |
| --- | --- | --- | --- | --- | --- | --- | --- | --- | --- | --- |
| Position | No. | Name | Nat. | Team | Car | Fastest lap (min) | In | Gap (s) | Laps | km/h |
| 1 | 115 | Mahaveer Raghunathan | IND | PS Racing by Coloni Motorsport | Dallara Lola | 1:46,941 | 2 | | 8 | 181,883 |
| 2 |  999 |  Salvatore De Plano |  ITA | MM International Motorsport |  Dallara GP2 | 1:48,102 | 1 | 1,161 | 10 | 179,930 |
|  3 |  323 | Armando Mangini | ITA | MM International Motorsport | Dallara GP2 | 1:48,193 | 4 | 1,252 | 5 | 179,779 |
| 4 | 888 | Florian Schnitzenbaumer | GER | Top Speed | Dallara GP2 | 1:50,248 | 3 | 3,307 | 5 | 176,428 |
| 5 | 321 | Andreas Fiedler | GER | Fiedler Racing | Dallara GP2 | 1:51,817 | 1 | 4,876 | 1 | 173,952 |
|  6 | 411 | Karl-Heinz Becker | GER | Becker Motorsport | World Series by Nissan | 1:52,858 | 5 | 5,917 | 6 | 172,348 |
|  7 | 101 |  Peter Göllner | SUI | Speed Center | Dallara GP2 | 1:52,858 | 5 | 5,923 | 6 | 172,338 |
| 8 | 136 |  Henk de Boer | NED | De Boer Manx | Dallara GP2 | 1:54,313 | 9 | 7,372 |  11 | 170,154 |
| 9 | 555 | Christian Eicke | SUI | Speed Center | Dallara GP2 | 1:54,441 | 6 | 7,500 | 10 | 169,964 |
| 10 | 505 | Walter Steding | GER | Inter Europol Competition | Dallara GP2 | 1:54,909 | 10 | 7,968 | 11 | 169,271 |
| 11 | 222 |  Veronika Cicha | CZ | H&A Racing Team | Dallara GP2 | 1:56,606 | 7 | 9,665 | 8 | 169,271 |
| 12 | 444 | Johann Ledermair | AUT | Ledermair Motorsport | Dallara GP2 | | | | | |
MORE:
Picture gallery of Brno 2017: bossgp.com/gallery/brno-masaryk-racing-days-2/
Timetable Brno 2017: bossgp.com/timetable-for-the-masaryk-racing-days-in-brno-cz/
OPEN class: Second free practice in Brno 2017: bossgp.com/open-class-gerstl-leading-again-jaksch-back-on-track-in-brno/
FORMULA class: First free practice in Brno 2017: bossgp.com/formula-class-raghunathan-shows-fastest-lap-during-first-free-practice/
FORMULA class: Start list at "Masaryk Racing Days" in Brno 2017: bossgp.com/formula-class-start-list-for-the-masaryk-racing-days-in-brno-cz-is-set/
OPEN class: Start list at "Masaryk Racing Days" in Brno 2017: bossgp.com/open-class-start-list-for-masaryk-racing-days-in-brno-cz-is-set/
Standings of season 2017: bossgp.com/standings
Follow us on our Social Media Channels for more information and live coverage:
08/09/2017