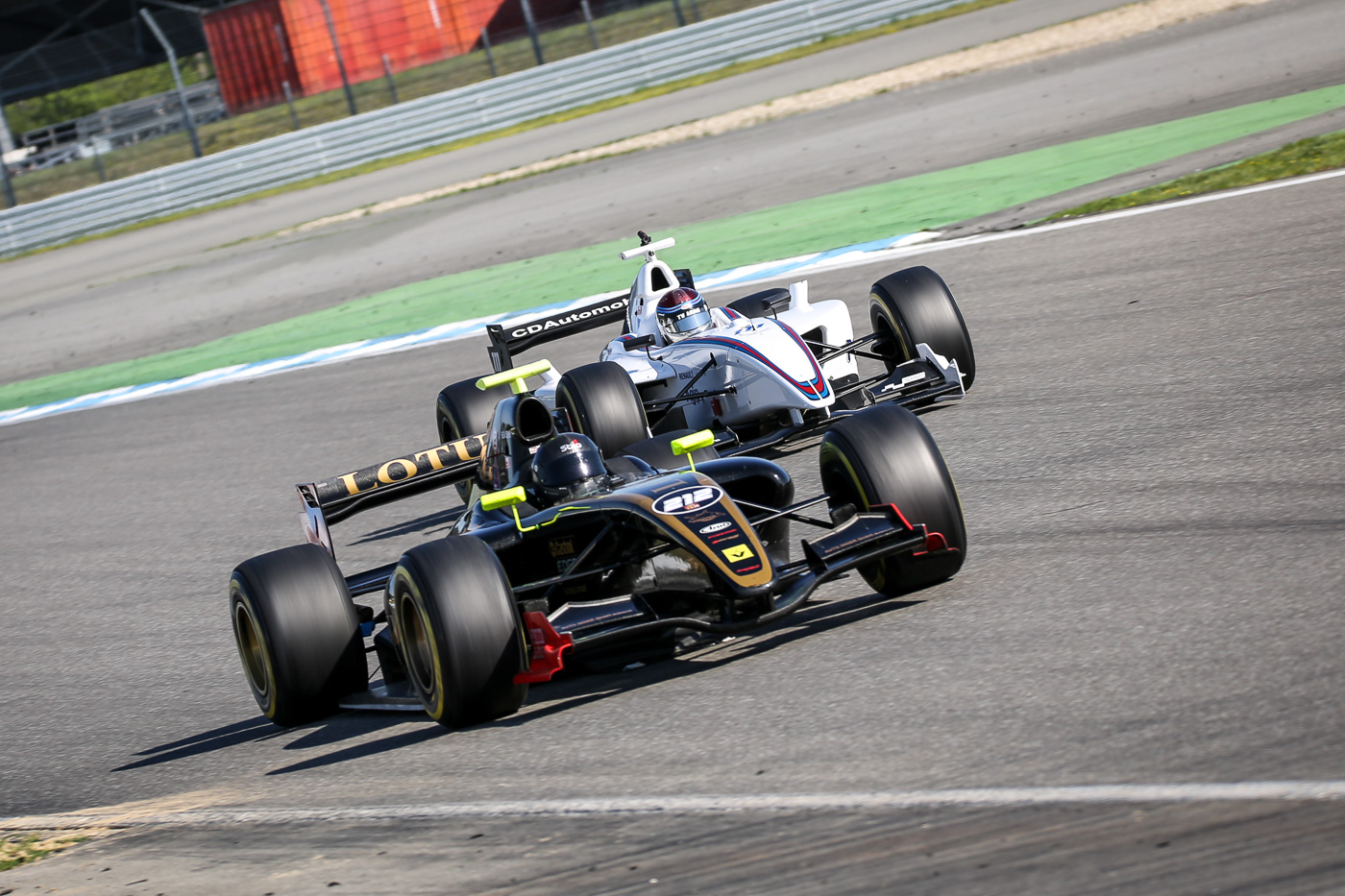 Ingo Gerstl (Top Speed) was fastest in his V10-Toro-Rosso for the second time; Florian Schnitzenbaumer was first in FORMULA this afternoon.
The victory in the OPEN class leads – this is to be expected – over BOSS GP champion Ingo Gerstl, also because of the struggeling competitors:
Bernd Herndlhofer already had to have his Arrows A22 packed, after yesterday on the day of testing everything was still running smoothly, today nothing worked at all. Troubleshooting will continue at home and another attempt will be made at the second race at the Red Bull Ring (18-20 May).
Wolfgang Jaksch is still hopeful to participate in the qualifying tomorrow (10:35 a.m. local time). The Super Aguri Cosworth suffers from heart disease, at least the fuel pump could be brought meanwhile to run.
The fourth entered in the OPEN class, Phil Stratford (Penn Elcom Racing), was just ahead of the first FORMULA driver with 1:30.621 min. After he stopped in the morning, the mechanics continue to search for the cause in the afternoon.
With only one interruption, the BOSS GP came through the afternoon session. Bianca Steiner (Top Speed) spun at the branch of the new track, but with the help of the marshals she could continue.
The Frenchman "Piter" improved his time by three seconds compared to the morning (1:34.5 min) – despite a performance deficit compared to the GP2-Mecachrome he keeps up well with his World Series Renault.
Andreas Fiedler (Fiedler Racing) complained that the track "gives less" than last year. But with 7th place he is right in the middle of the very close FORMULA field. Only two and a half seconds lie between positions 4 and 9. Considering that some were still on the road with old tyres today, the most excitement can be expected here.
The fastest FORMULA pilot of the morning Salvatore de Plano (MM International) had to miss the second session. Increased engine oil temperature prevented the car from leaving the pits. Instead, Florian Schnitzenbaumer was fastest in Dallara-GP2, with 1:30.922 he was almost seven seconds behind his team mate Gerstl's Formula 1.
Last, but happy was John Reaks at Speed Center. At 68, the Briton is second oldest in the field and for the first time at Hockenheim: "You learn lap by lap", he said after the training. The fastest man of the team from Germany was Peter Göllner in 7th place.
Karl-Heinz Becker from Germany would also have liked to learn, but the engine did make that impossible. His engineer was contacted in Japan – but so far he could not help by remote control either.
Pictures of today's practice sessions available here: