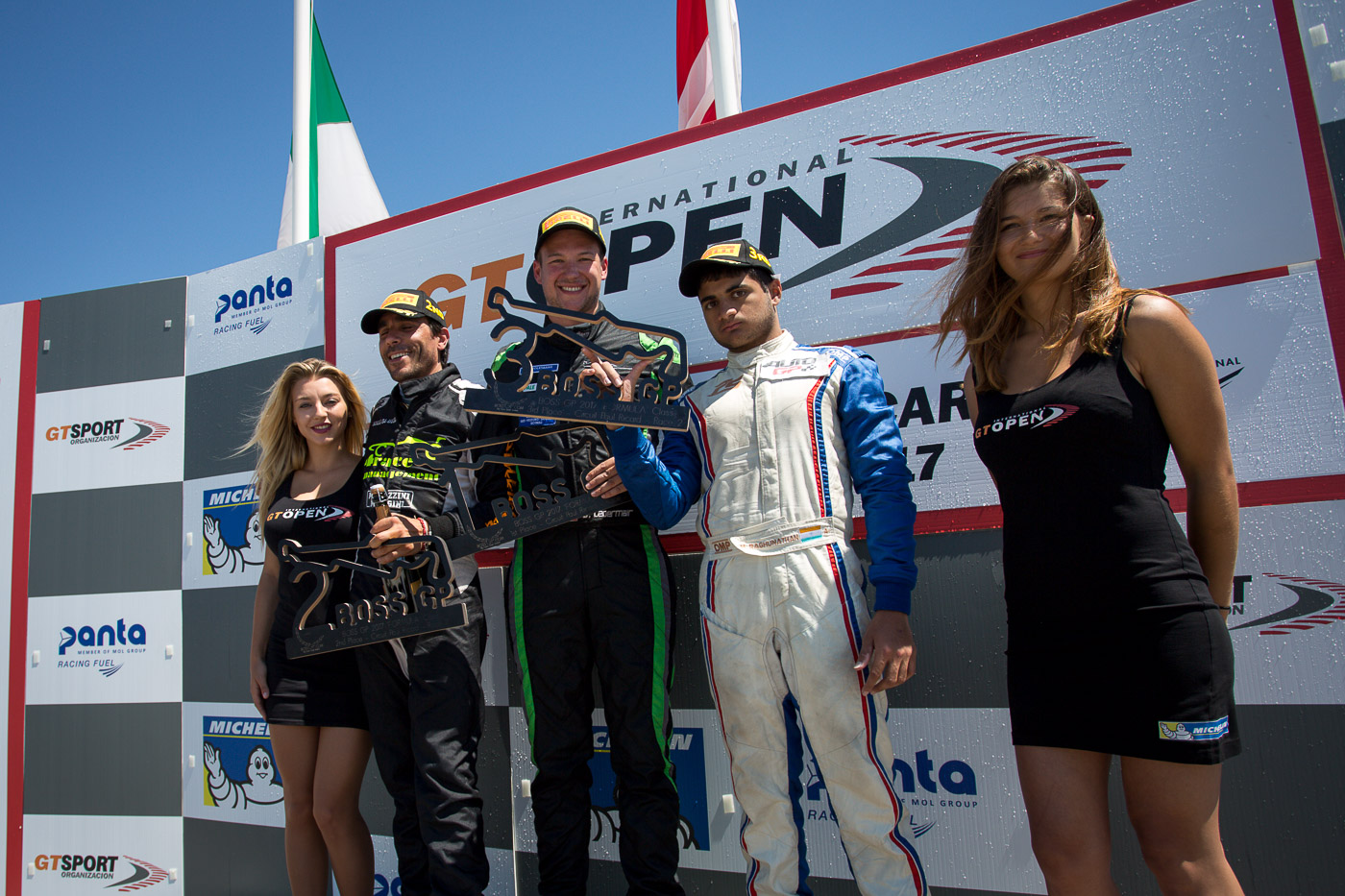 Another heated race under French sun at Paul Ricard brought a clear winning Ingo Gerstl (Top Speed, OPEN class) with a head-to-head competition following on position 2 and 3 between the youngsters Rinus van Kalmthout (Mansell Motorsport, OPEN class) and Johann Ledermair (Ledermair Motorsport, FORMULA class). 
It was a clear start-finish-victory for Ingo Gerstl, who dominated the track also in the second race of the weekend in France. After winning the first race at Saturday, the Austrian repeated a successful performance on Sunday, racing his best lap in 1:46,605 min. "I'm happy with the race", Gerstl recapped his performance. "Especially since I reached my goal, to improve the best lap compared to Saturdays race."
The gap between Gerstl and the closest rivals on track, Rinus van Kalmthout (+ 1:00,865 min) and Johann Ledermair (+ 1:10,978 min) on position 2 and 3, was significant. "There was no chance against Ingo (Gerstl) today", van Kalmthout showed respect to the winner. The both youngsters, Rinus 16 years old, Johann 25 years old, showed a decent battle. At the end best lap times were more than close, with a 1:50,616 min by van Kalmthout in his GP2 Evo Dallara and a 1:50,643 by Ledermair in his Dallara GP2. Quita a remarkable performance by the Austrian Ledermair, if you notice, that he competes in the FORMULA class, while van Kalmthout starts at the OPEN class. "It was a good race, tyre management went well again", van Kalmthout was satisfied with his race. "Ingo was really quick, I had no chance, keeping up with him. Finally we got out the most of what was possible today, so I'm happy with the result", the Dutch was satisfied with reaching the P2 again.
Meanwhile Johann Ledermair, finishing on grid position 3, making the P1 of the FORMULA class, was not pleased overall, but struggled with himself. "I'm totally not satisfied. The whole weekend was running a kind of weird. Initially I assumed tyre-problems due to their conditions after the race in Zandvoort. I was absolutely convinced, that the tyres caused some problems, we had to deal with. So we changed tyres, but I noticed immediately during the warm up lap, that something still is wrong. We checked everything and I got an okay by my chief mechanic. But I felt strong vibrations at the steering wheel during the race and took out some speed due to security reasons. Finally I just aimed to finish the race considering these circumstances. Most of all I'm angry with myself about hanging up on a tyre problem which turned out to be wrong".
Finishing fourth was Wolfgang Jaksch (F Xtreme Racing Team, OPEN class) with his best lap in 1:56,507 min. As on Saturday Jaksch made it to the P3 of the OPEN class and was absolutely satisfied with his performance after some struggles at the race the day before: "Despite being on the same place, the race itself felt totally different for me. I'm absolutely satisfied and happy about the result and especially how it came. The car run smoothly, I got faster each round coming closer to the finish; to me that shows, each round strengthens the confidence in the car, which improves my lap times."
Salvatore De Plano (MM International Motorsport) and Mahaveer Raghunathan (PS Racing by Coloni Motorsport) rounded the podium of the FORMULA class off, finishing on position 5 and 6. Got overtaken by Jaksch couple of laps before the finish, the gap between best lap times of the Italian (1:56,651 min) and the Indian (1:56,625 min) nevertheless was tight. "I totally didn't expect to make it to the podium, so I am really really happy", De Plano smiled widely. Having big issues on Saturdays race ("The car was terrible!"), De Plano changed his tyre management for Sundays race and was absolutely pleased: "The car run perfect, conditions were great, I loved the hot weather; it was a perfect race day for me." Meanwhile P3 Mahaveer Raghunatan was happy, having reached a podium position as well, but struggled with the track layout. "The problem were the long straights. I lost a lot of time on these straights, actually I lost too much time there", he summed up.
The remaing grid (all FORMULA class) either performed best lap times close to the podium drivers. David Moretti (Griffith's, FORMULA class), getting overtaken by even seven drivers in the early stage of the race, started a great fight and made it from position 13 in round 2 up to position 7 while crossing the finishing line (best lap: 1:56,900 min). Wolfgang Jordan (8., H&A Racing, 1:59,784), Henk de Boer (9., De Boer Manx, 1:59,115) and Armando Mangini (10., MM International Motorsport, 1:58,225) also performed their best lap under two minutes. Christian Eicke (11., Speed Center, 2:01,327), Martin Kindler (12., Jenzer Motorsport, 2:02,586) and Bruno Navarrete (13., Griffith's, 2:03,357) were close by.
Four out of the starting grid of 17 cars were not classified because of early exits, due to various technical problems. While Florian Schnitzenbaumer (Top Speed, FORMULA class) had problems with the gearbox of his GP2 Dallara in lap 11, Veronika Cicha (H&A Racing, FORMULA class) had to exit the race due to tyre-problems as well in lap 11. Already in lap 5 Patrick D'Aubreby (Griffith's, OPEN class) exited the race with technical problems. Peter Göllner (Speed Center, FORMULA class) spun off the track in lap 4.
More:
Photo Gallery Paul Ricard 2017: bossgp.com/gallery/paul-ricard-gt-open-euroformula-open/
Race 1 Paul Ricard: bossgp.com/ingo-gerstl-leads-the-grid-chased-by-youngsters-rinus-van-kalmthout-and-johann-ledermair/
Qualifying report Paul Ricard: bossgp.com/qualifying-at-paul-ricard-with-some-strange-failures/
Practice day Paul Ricard: bossgp.com/practice-day-at-paul-ricard-results/