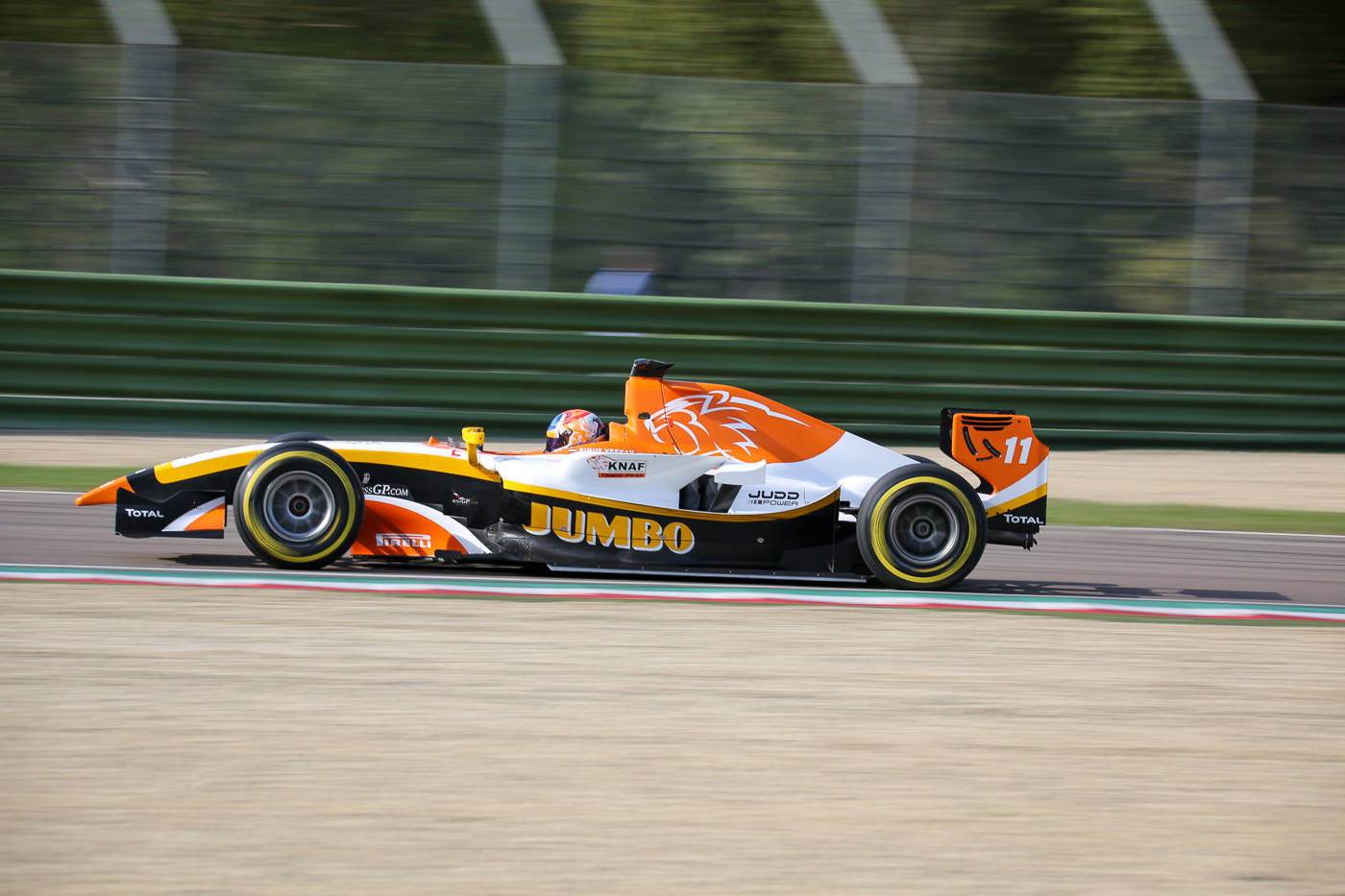 Just two OPEN class drivers entered the track for the second free practice session on the circuit in Imola on Friday afternoon. Ingo Gerstl stayed in the box, but will start at the Qualifying on Saturday. Weather conditions fit well in the afternoon again: 22°, sun, no clouds and no rain.
Both BOSS GP classes – OPEN and FORMULA class – went on track together for the practice session. Due to two spin offs of the track by FORMULA class drivers, to red flag phases cooled the speed of the grid down in the beginning of the session. But once, the track was released for all drivers again, Rinus van Kalmthout killed the asphalt in Imola.
With his best lap in 1:28,455 min the Dutch not only performed the best lap time of the overall grid. He improved his time from morning session for almost a second (1:29,027). Van Kalmthout was followed by Phil Stratford (Penn Elcom Racing), who performed his best lap in 1:32,313 min. The American drove a slower time than in first free practice of the day. But he will definitely go faster at the Qualifying on Saturday morning.
Next step of the race weekend is the Qualifying, which will start at 10:05 a.m. on Saturday morning.
Results of second free practice of OPEN class at "Peroni Race Weekend":
| | | | | | | | | | |
| --- | --- | --- | --- | --- | --- | --- | --- | --- | --- |
| Position | No. | Name | Nat. | Team | Car | Fastest lap (min) | Gap | Laps | km/h |
| 1 | 11 | Rinus van Kalmthout | NED | Mansell Motorsport | Dallara GP2 Evo | 1:28,455 | | 10 | 309,1 |
| 2 | 7 | Phil Stratford | USA | Penn Elcom Racing | Bennton B197 F1 | 1:32,313 | 3,858 | 11 | 305,6 |
MORE:
Picture gallery of Imola 2017: bossgp.com/gallery/imola-boss-gp-superprix
Schedule Imola 2017: bossgp.com/timetable-for-the-peroni-race-weekend-in-imola-ita
OPEN class: First free practice in Imola 2017: bossgp.com/open-class-gerstl-set-the-speed-at-first-free-training
OPEN class: Start list Imola 2017: bossgp.com/open-class-start-list-for-boss-gp-superprix-in-imola-ita-is-set
FORMULA class: Start list Imola 2017: bossgp.com/formula-class-start-list-for-boss-gp-superprix-in-imola-ita-is-set
Standings of season 2017: bossgp.com/standings
29/09/2017