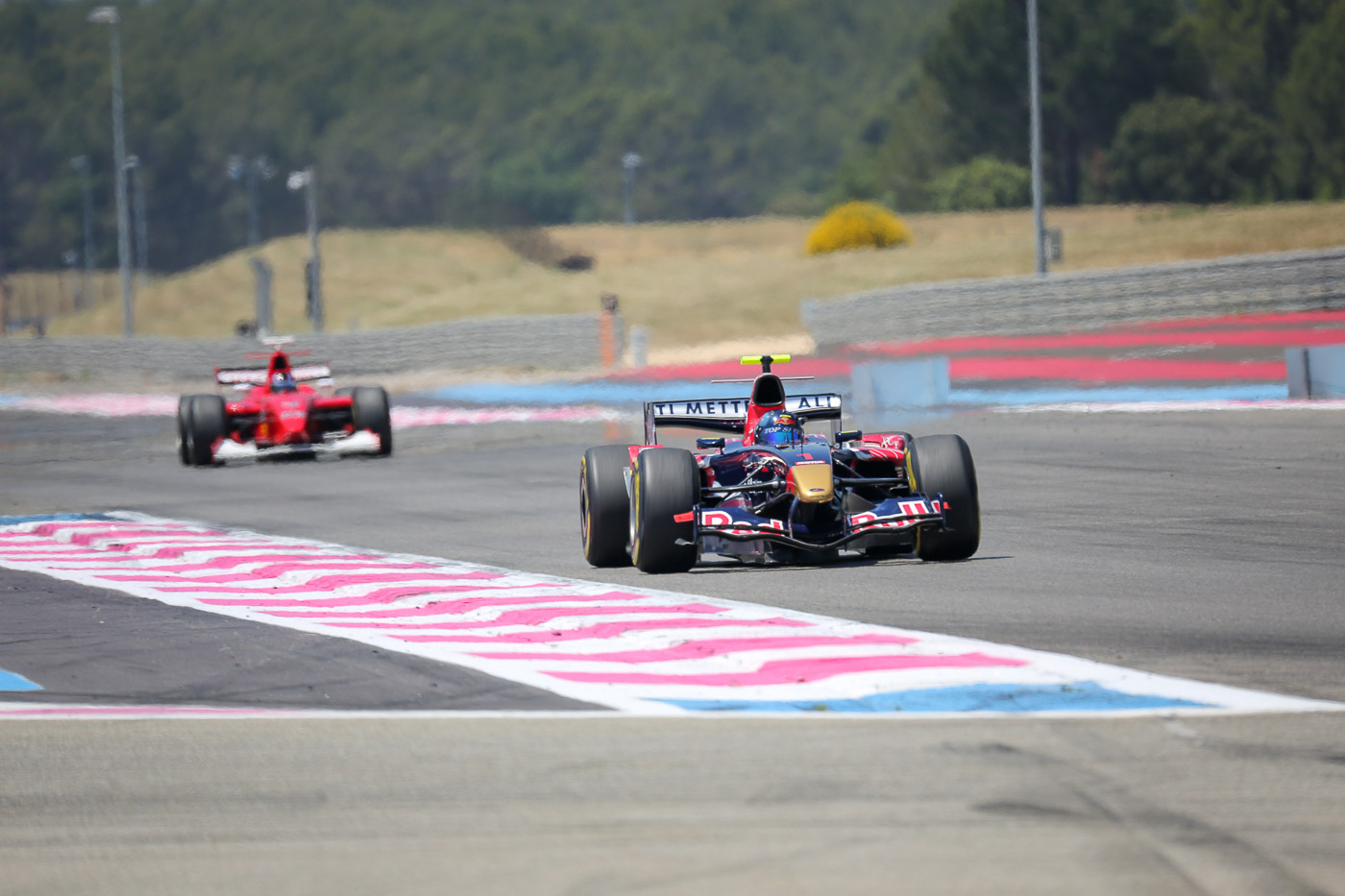 Blue sky and 25° – Le Castellet obviously wants the best for BOSS GP. Fitting to great weather in southern France, the BOSS GP teams had an practice day, which mostly run according to the plan. 
"Both training sessions went well with the exception of some technical problems of the Dallara from Karl-Heinz Becker", race-coordinator Christian Gänse was satisfied with the performance on practice day.
Fastest drivers on track – the "usual suspects". First practice session was led by Ingo Gerstl (Top Speed) in his Toro Rosso STR1 (OPEN class) with a best lap-time of 1:48.490 min on the 5.842 km long track. He was followed by teammate Florian Schnitzenbaumer (Top Speed), who got a best lap-time of 1:56.394 min in his Dallara (FORMULA class). Mahaveer Raghunathan (PS Racing by Coloni Motorsport) in his Lola (FORMULA class) sharply behind (1:57.001 min) and Johann Ledermair (Ledermair Motorsport) in his Dallara (FORMULA class) as well sharply behind (1:58.614 min) also remained under the two-minutes-mark.
Detailed result of first practice session:
Best conditions on the track as well at the second practice of the day on early afternoon. While the grid was lead again by Ingo Gerstl, who improved his best lap up to 1:47.292 min, Rinus van Kalmthout (Mansell Motorsport, OPEN class) sneaked up and showed his best lap in 1:50.726 min, which made him the second best ranked driver of the session. Johann Ledermair, current leader of the FORMULA class overall ranking, improved his best lap significantly as well with 1:52.722 min and made it into the "Top 3" of the second practice session.
With Mahaveer Raghunathan (1:54.383 min), Florian Schnitzenbaumer (1:55.229 min), Wolfgang Jaksch (F Xtreme Racing Team, OPEN class, 1:56.343 min), David Moretti (Griffith's, FORMULA class, 1:57.912 min), Salvatore De Plano (MM International Motorsport, FORMULA class, 1:58.297 min) and Henk de Boer (De Boer Manx, FORMULA class, 1:59.297 min) nine drivers made it to a < 2 minutes lap. A promising kick-off for a fast race weekend in Le Castellet.
Detailed result of second practice session:
More:
Detailed results I: Results first practice session Paul Ricard 2017.
Detailed results II: Results second practice session Paul Ricard 2017.