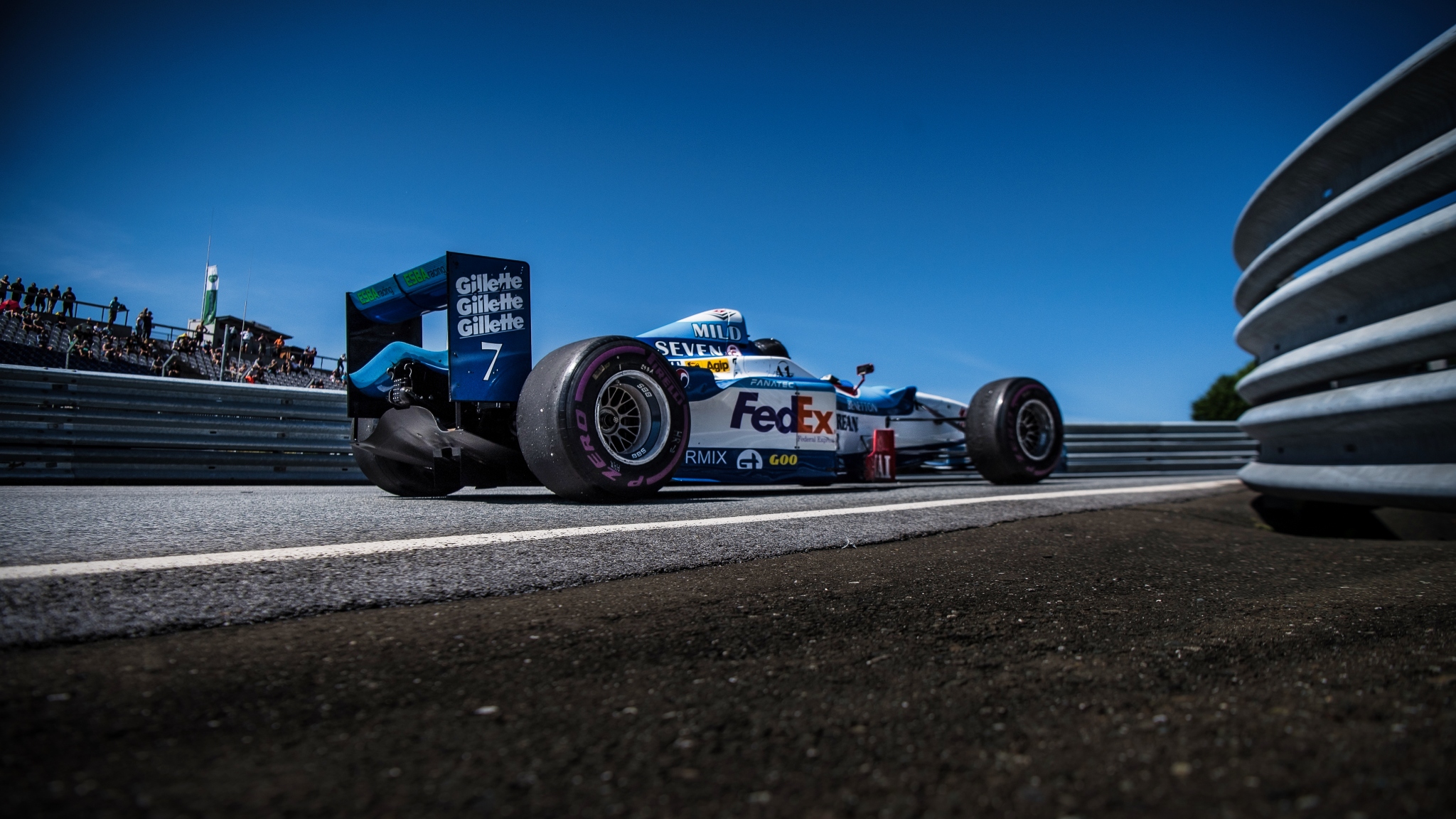 The BOSS GP Racing Series is coming to Le Castellet with a top-class starting field for the French Historic Grand Prix (June 17-19, 2022). Racing legends await teams and drivers there.
Just two weeks after the races at the Red Bull Ring in Spielberg, the BOSS GP Racing Series continues its European tour in France. The fourth edition of the Grand Prix de France Historique at Circuit Paul Ricard provides the ideal setting to bring the past back to life. Located near the sea, between Marseille and Toulon, fans and drivers can expect an event full of awakened memories.
With a bombastic grid of over 25 cars, including Formula 1 race cars from Toro Rosso, Jaguar and Benetton, IndyCars and monopostos from Formula 2, GP2, World Series and Auto GP, Europe's fastest racing series will contest rounds 5 and 6 of the season at Le Castellet. Also taking part are four Frenchmen: Didier Sirgue (Jaguar R2), David Moretti (GP2), Jean-Christophe Peyre (Auto GP) and Alain Girardet (WSbR), joined by Nicolas Matile (Auto GP) and Marc Faggionato (GP2), who will be competing under a Monegasque license.
Entry list:
Race Track:
The 5.8-kilometer Circuit Paul Ricard is a track that is demanding from a driving point of view and at the same time has some high-speed passages to offer. Well situated climatically, with around 180 different track variations and extremely safe, the circuit is a paradise for test drives for good reason. The Big Open Single Seater's last race here was held in 2017.
Timetable (CEST):
Friday, 17 June 2022
11:00–11:25 Free Practice 1
15:45–16:10 Free Practice 2
Saturday, 18 June 2022
10:10–10:40 Qualifying
15:30–15:50 Race 1 (20 minutes)
Sunday, 19 June 2022
09:35–09:45 Warm-up
15:30–15:55 Race 2 (25 minutes)
Supporting program:
The fourth edition of the event is dedicated to the 70th anniversary of the FFSA (French Automobile Sports Association) and the fabulous history of Formula 1. In addition to the BOSS GP Racing Series, the program includes races with legendary cars from the 1970s (Historic F1). Furthermore, there will be races of the Historic Formula 2 (built before 1979), Formula 3 and Formula Renault Classic and Formula Ford 1600 with no less than 45 starters. Under the title "100 km du GPFH", older and younger GTs and sports prototypes will also be competing.
A total of twelve races, spread over Saturday and Sunday, are on the racing program. Numerous other Formula 1 vehicles will be on display in the paddock. Fans can also do their own laps in F1 simulators or learn something new at the F1 technology exhibition. The paddock is freely accessible to visitors. No wonder that this also attracts numerous French motorsport stars to the Cote d'Azur. Jean Alesi, Rene Arnoux, Yannick Dalmas, Jean-Pierre Jarier, Patrick Tambay, Pascal Fabre, Jean-Marc Gounon, Patrick Gaillard and others have announced their visit.
Tickets & TV broadcast:
Tickets are available from 25 euros, for more details visit www.gpfrance.com/en/french-historic-grand-prix/ticketing
Admission is daily from 9 am.
The program on Sunday will also be broadcast on French television, on the channel Automoto La chaîne.
Pictures: Angelo Poletto/BOSS GP, Jean-Marie Biadatti, Bernard Canonne