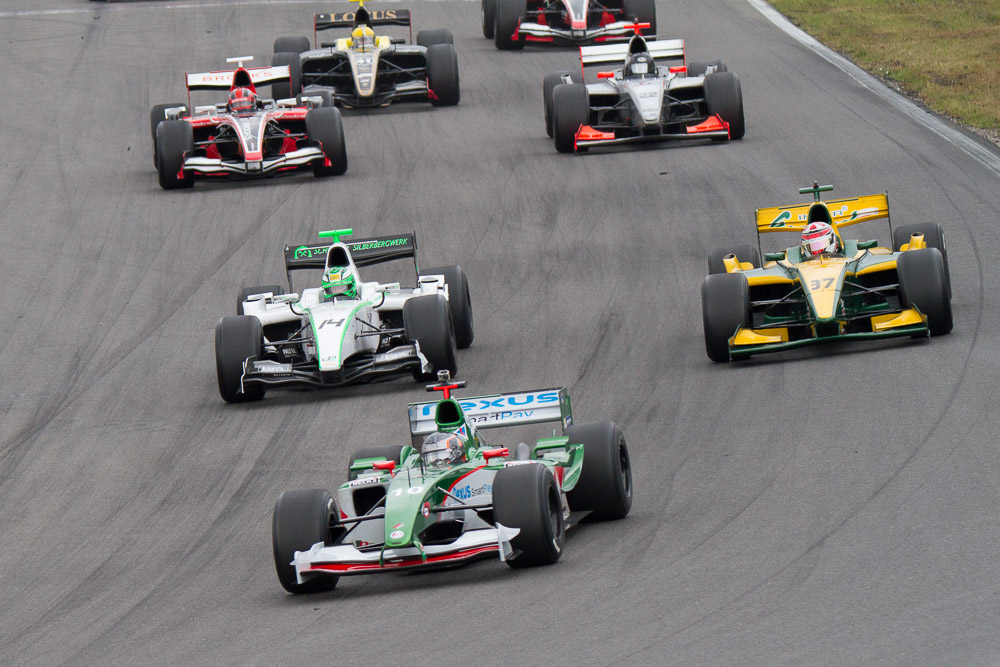 On the 5th and 6th of July it was once again time for the annual rain battle of Zandvoort.
Marijn van Kalmthout and Klaas Zwart took this chance to prove that they are still part of the top BOSS GP pilots, despite lack of track time this season.
In a chaotic qualifying session with multiple red and yellow flags, van Kalmthout and Zwart finished on position two (1:58.232) and three (2:00.913) behind Johann Ledermair who secured his first ever BOSS GP pole position (1:57.845).
The fastest MASTERS class driver was Karl-Heinz-Becker on position six (2:06.824), who is finally back after missing the last two Grand Prix's due to technical difficulties, in front of Jens Renstrup (2:07.303) and MASTERS class leader Hans Laub (2:07.654).
Race 1 saw a exciting battle until the last lap between van Kalmthout, Ledermair and Smiechowski foughting a thrilling fight for the top three podium positions with multiple overtaking manoeuvres and position changes.
Zwart, who gambled and decided to start the race on rain tyres had no choice but to take a pit stop already in lap one, changed his tyres and drop back to position 11. Still he was able to fight his way back to the third position behind van Kalmthout who took the first victory of the weekend and Smiechowski with a fantastic second place while Ledermair was out from the podium spots after a very hard crash in leading position in the last lap. In the MASTERS class Hans Laub was once again victorious in front of Henry Büttner and Karl Heinz Becker.
The second race started in a complete opposite way for van Kalmthout. Due to technical difficulties he was not able to start into the warm-up lap and had to enter the race from the pit. On the other hand, the second Dutchmen on the field Klaas Zwart and Ledermair Motorsport Pilot Johann Ledermair took their chances and overtook Jakub Smiechkowski, who had this time a weak start. The rest of the second race was more or less static with constant driving performances and nearly no mistakes. Therefore the top three positions did not change at all and so Zwart won the second race of the weekend in front of Ledermair and Smiechkowski. Van Kalmthout finally finished on position seven.
In race two the MASTERS Class was dominated by team Speed Center whose drivers took the three top spots, Hans Laub on the first, Christian Eicke on the second and Peter Göllner on the third position. Karl-Heinz Becker leading the MASTERS class until the last lap collided with Klaas Zwart during a safety-car period and couldn't finish the race but could once again showing his very experienced driving skills with leading his class until this little crash.
Another very big crash of Inter Europol GP2 driver Jens Renstrup at the end of race 2 had more lucky ending than it seemed at first when the medical rescue team was going out on the track. After a complete check in the local hospital Renstrup could make his way back home with still some pain but in a good condition and with a smile on his face.
After a great team work for nearly the whole night Johann Ledermair could come back in race two to secure the second podium spot behind Klaas Zwart which also brought him the needed Championship points to take over the 'Overall' but also the 'Formula' class lead from Gary Hauser.
With a impressive time of 1:22.849min Klaas Zwart set in race two a new official lap record for the circuit of Zandvoort!
Next race: 13/14 September – Masaryk Racing Days – Automotodrom Brno (CZ)
See the complete results on the event page: MASTERS OF FORMULA 3 & BLANCPAIN GT Results