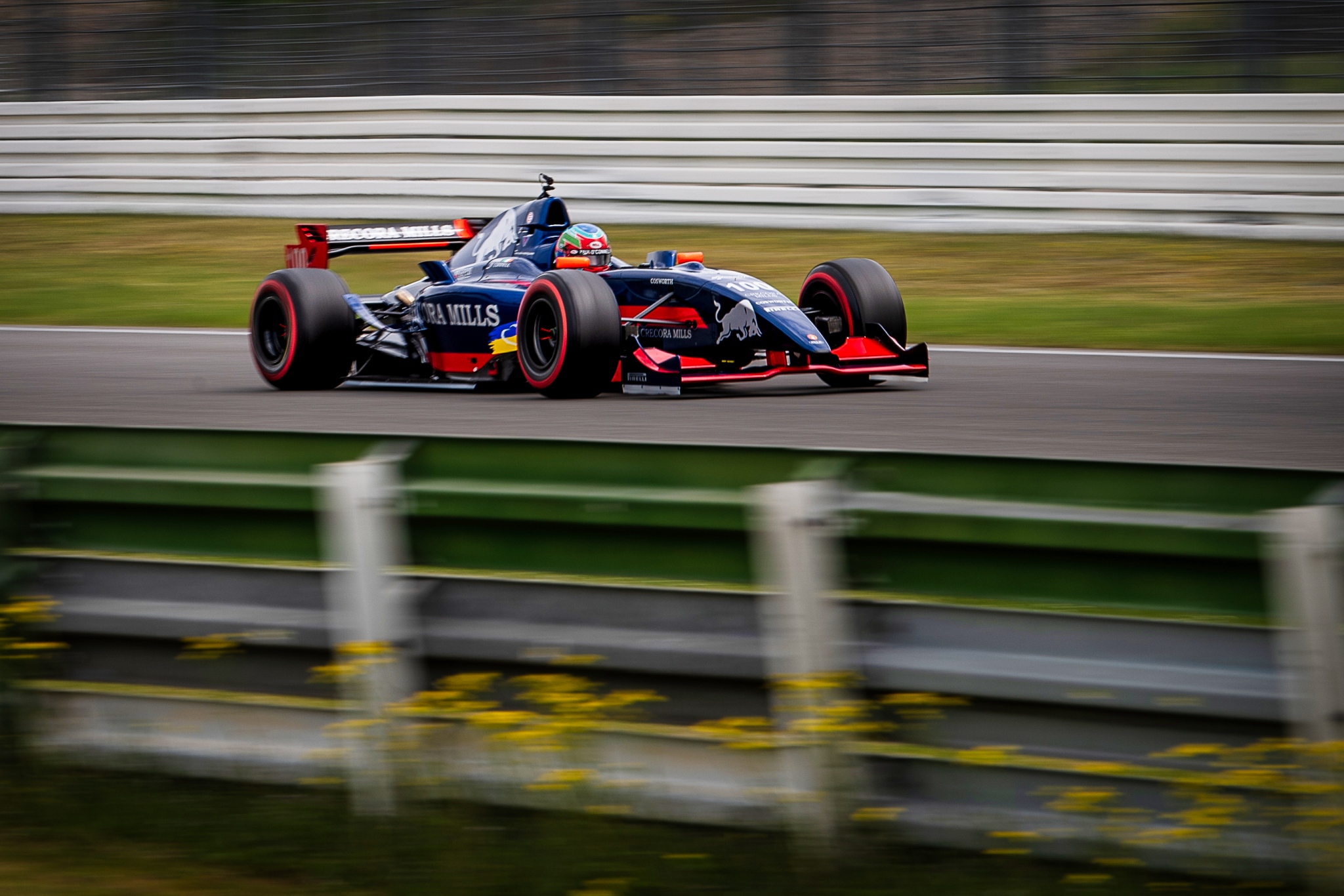 Pole position for Gerstl in the Toro Rosso STR1. FORMULA: Colombo finishes slightly ahead of Faggionato. O'Connell in front in his comeback in the SUPER LIGHTS class.
Thousands of spectators crowded into the Motodrom early in the morning. The Hockenheim Historic is expecting a record number of spectators on Saturday. The qualifying of the BOSS GP Racing Series at the Hockenheimring took place early this morning in perfect spring weather. The best grid positions for the two races were determined.
In the BOSS GP F1 Class there was no surprise: Ingo Gerstl (AUT, Top Speed) took pole position for the second time this year in his 2006 Toro Rosso Formula 1, with a lap time of 1:21.140 min, just slightly behind his pole time from last year. He will be joined on the front row of the grid in both races by German Ulf Ehninger (ESBA Racing) in the Benetton B197.
19 years after his last appearance at Hockenheim, Antonio Pizzonia (BRA, HS Engineering) is back at Hockenheim. The ex-Formula 1 driver will start for the second time this weekend in HS Engineering's modified World Series Dallara. The Brazilian will be back in the hunt for the Formula 1 cars in his OPEN class race car.
The FORMULA class had never been so close in qualifying. The top 5 were separated by less than one and a half seconds on the fastest lap. The Italian MM International team celebrated a row one "lockout": Simone Colombo (ITA) beat Marc Faggionato (MCO) by one tenth of a second. Marco Ghiotto (ITA, Scuderia Palladio) follows in 3rd place, who has his usual more difficult time at the Hockenheimring. "Checco" Malavasi (ITA, Scuderia Palladio) and Florian Schnitzenbaumer (GER, Top Speed) also expect to have a chance of a podium finish. The latter, on his return after a break of several years, is to be found at the front of the field right away and was able to set a good lap time despite an aborted second attempt. Alexander Seibold (GER, Seibold Auto + Sport) also had a fantastic qualifying session in his first BOSS GP race in 2023. The German will start from 7th in class in an eye-catching design combination with a homage to Valentino Rossi and Jo Siffert.
In the SUPER LIGHTS, after the solo of Henry Clausnitzer (GER, WF Racing) last time in France, there is a lot going on this time. An outstanding best time was set by Paul O'Connell (IRE, HS Engineering), who is driving an older Dallara with a eight-cylinder engine this year. With a best time of 1:32.368 min he qualified in the middle of the field of GP2 cars. The two newcomers Jody Stadelmann (SUI) in a G-Force-Mugen from Japan and Stefan Eisinger-Sewald (AUT, Red Rose Racing) follow in 2nd and 3rd place on the grid.
The start times are 14:40 on Saturday and 14:05 on Sunday. Both races will be livestreamed.
Photos: Angelo Poletto/BOSS GP