We spoke to Austrian Michael Aberer (50) ahead of his home race at the Red Bull Ring (June 3–5, 2022) and learned why he admires Niki Lauda, but his GP2 Dallara will be on the grid in a retro livery of Jochen Rindt.
What motivates you to drive a GP2 car?
MICHAEL ABERER: "In terms of dimensions, the car suits me. I'm 90 kilos, in Formula 3 you need 70, 75 kilos – it's simply a smaller car. So the GP2 is a better match for me from a purely physical point of view. And single seaters are my world anyway!"
Do you have a particular hero?
ABERER: "Niki Lauda, I've had him on my wall as a poster since I was a child. But also Gerhard Berger, I'm probably closest to him in human terms. Like him, I took care of everything: racing car, business … disco and, of course, girls (laughs)."
But your car is painted like Jochen Rindt's world champion Lotus, why is that?
ABERER: "I came up with that together with Ingo Gerstl. He thought it was a bit of history and showed me pictures of memorable motorsport designs. Red-white-red are again my colors – so I thought, 'okay, it will be Jochen Rindt'. Then there was also the 50th anniversary of his death (2020, note) and that's how it all fell into place. Even though Jochen Rindt raced before my time, as an Austrian his story of course interests me."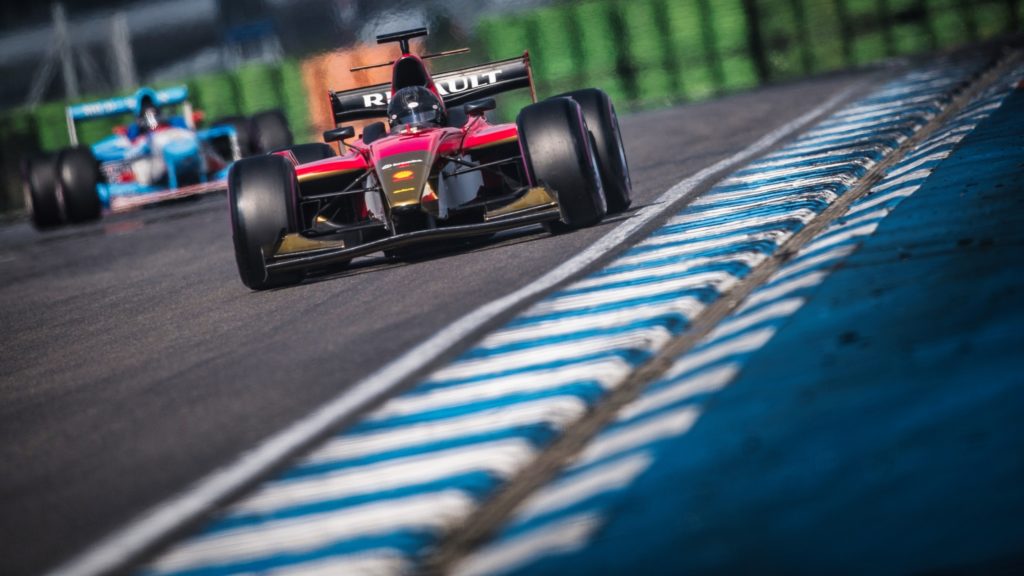 What is your motorsport history so far?
ABERER: "In the classic way, karting and car slalom. I was very successful in car slalom, 30 years ago with a Golf GTi in Vorarlberg. Now it's different, but in the past these were real racing cars, with a cage inside and the car slalom community was also big. In between I took a little break. Then I started karting again as a hobby and then switched to Formula 3. In 2006, I became champion of the so-called B series."
Then you took another break …
ABERER: "Yes, in 2012 I stopped completely and let my son Lukas drive. Two years ago, however, I started again. Now I'd like to drive the car a bit more and then I'll let Lukas go first."
Two years ago, you raced in the BOSS GP Racing Series for the first time. How is your team made up today?
ABERER: "Currently I have hired the Asche Racing Team with Flo Leitinger as chief mechanic. They are good and for me it makes sense above all that they take care of the car, then I am much freer. They screw and I drive, like a Formula 1 driver (laughs)."
What do you like most about the BOSS GP?
ABERER: "I like the community. Here, many drivers from different nations come together, all around the same age. On the tracks we have our fun, in the evening we sit together at the barbecue. High performance, but also comfortable. We're not going to be Formula 1 world champions anymore, so we have other ambitions. From a sporting point of view, my goal this year is to make it onto the podium and then we'll see."
Pictures: Angelo Poletto & Michael Kavena/BOSS GP