June 6, 2023
The Red Bull Ring Classics from 9 to 11 June 2023 will celebrate its premiere in Spielberg. Joining them at Austria's Formula 1 circuit is Europe's fastest racing series,
Fans can expect a unique mix of Formula 1, Formula 2 and GP2, World Series and Formula 3000 cars. For the first time Sebastian Vettel's younger brother Fabian will compete in the BOSS GP Racing Series next weekend. With him on the grid: ex-Formula 1 driver Antonio Pizzonia and thousands of horsepower.
Entries
First and foremost, Salzburg's record champion Ingo Gerstl (AUT, Top Speed) will compete in the BOSS GP F1 Class. With his Toro Rosso STR1, he not only holds various track records, but has also conquered the hearts of numerous fans with the V10 Cosworth engine. Gerhard Berger's Benetton from 1997, today driven by Ulf Ehninger (GER, ESBA Racing) in its original livery, also brings back nostalgic memories.
Modified cars that no longer comply with the original regulations of their racing series compete in the OPEN class. The best-known representative in this illustrious field is former Formula 1 driver Antonio Pizzonia. The Brazilian competed for BMW Williams on this circuit in 2003, this year once again he is chasing F1 cars in the field with a World Series V8 bolide with a big 4.5-litre Gibson engine. Team-mate Paul O'Connell from Ireland will start with a World Series car powered by a 3.3-litre Cosworth engine and will be able to fight among the GP2 cars. Both mentioned race cars are entered by HS Engineering.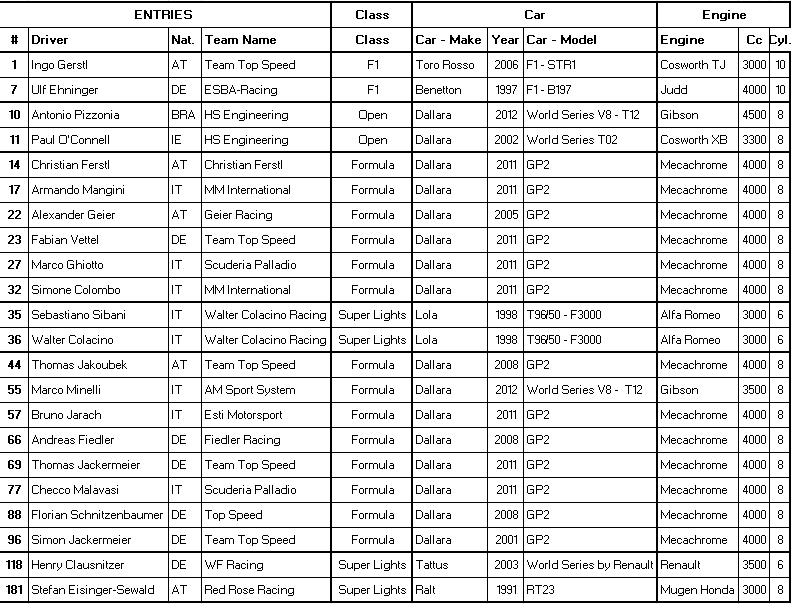 The field of Formula 2, GP2 and World Series 3.5 cars features several highlights. 24-year-old Fabian Vettel (GER), who recently competed in the ADAC GT Masters, among others, is driving in the BOSS GP Racing Series for the first time. With a GP2 car from the Austrian Top Speed team, the driver from Heppenheim could cause a sensation in FORMULA class right from the start. Simone Colombo (ITA, MM International) comes to Spielberg as the overall leader. After three wins in four races this season, he has already pulled a few points clear of his toughest rival Marco Ghiotto (ITA, Scuderia Palladio). Other contenders for the top positions include Thomas Jackermeier (GER, Top Speed) in the Fanatec GP2, "Checco" Malavasi (ITA, Scuderia Palladio) and Andreas Fiedler (GER, Fiedler Racing). The debut of Alexander Geier (AUT, Geier Racing) from Salzburg in the GP2 car will be interesting. Last year, the young man from Salzburg made a big impression in the SUPER LIGHTS category. With the experienced hillclimb driver and organiser of the Rechbergrennen, Christian Ferstl (AUT), a Styrian local hero will also be competing in this class with a GP2 Dallara.
The 21-strong field is completed by the Formula 3000 of Walter Colacino (shared with Sebastiano Sibani; both ITA) and the V6 World Series of Henry Clausnitzer (GER, WF Racing) as well as Stefan Eisinger-Sewald's (AUT, Red Rose Racing) Ralt-F3000 in the SUPER LIGHTS class.
Timetable
Friday, 9 June
14:10–14:35          Free Practice 1
16:35–17:00          Free Practice 2
Saturday, 10 June
09:10–09:40          Qualifying (separated in two groups)
15:50–16:10          Race 1 (20 minutes/F1 Class 15 minutes)
Sunday, 11 June
10:40–11:05          Race 2 (25 minutes/F1 Class 15 minutes)
all times CEST
Tickets
Day tickets for Saturday and Sunday cost 28 Euro each in advance booking (www.redbullring.com), the weekend ticket is available for 42 Euro – paddock and pit lane walk are included.
Support events
In addition to BOSS GP, nine other racing series will ignite fireworks of historic motorsport. Spectacular racing cars from all over the world will be on display. Further highlights are the Group C Supercup, the CanAm & Sportscars, the Super Sixties and the touring cars from the Golden Era of DRM, DTM and STW.
Photos: Angelo Poletto/BOSS GP, Vettel